Faith in Crisis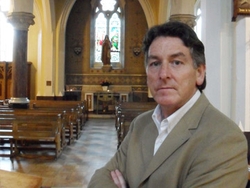 The Irish Catholic Church is facing one of the greatest crises in its history. Decades of scandal, revelation and a deep-seated culture of cover-up and secrecy have taken a terrible toll on a once sacred institution. A generation of young people is losing faith, and even interest, in a church which once dominated all aspects of Irish life. Weekly church attendances have halved since 1980 and vocations to the priesthood have all but evaporated.
So, what needs to change for the Catholic leadership to restore the faith and trust of people in Ireland? And are they willing, or able, to make those changes?
In an hour-long special, Would You Believe brings together key thinkers, writers, theologians, members of the laity and senior Church figures - to explore the deeper flaws that lie behind the scandal of clerical child sex abuse and to see if this crisis might yet prove to be a moment of opportunity.
Presented by award-winning journalist Mick Peelo - whose ground-breaking documentary Cardinal Secrets led to an inquiry into clerical child sex abuse - the programme will ask tough questions of the Catholic hierarchy.
It will ask how Cardinal Seán Brady - the man charged with the Church's renewal - intends to lead the Irish Church on a new path, when he himself is compromised by his involvement in the case of paedophile priest, Fr Brendan Smyth.
It will examine if new diocesan structures - designed to give the laity more of a say - are anything more than talking shops. And as Ireland awaits the arrival, this autumn, of the Pope's heavy-hitters, sent to reform the Irish Catholic Church, it will ask if the Church in Rome is itself destined to die in the West, if it doesn't institute major changes.
For the first time since the scandal of clerical sex abuse broke, this Would You Believe Special will ask can the Catholic Church in Ireland survive?