Faith Healer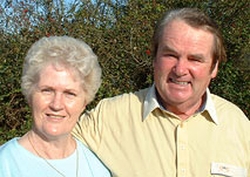 Janice Carrig
Please note: There will be a prayer meeting for the public on Sunday 25th February at 3pm in the Town Church at Abbeyfeale, Co Limerick.

When Janice Carrig was 8 years old, and living in New Zealand, she travelled on her own to see Billy Graham, the world famous evangelist. After seeing him on stage, she was mesmerised by the power of his words. She knew that this was what she wanted to be when she grew up.
Now living in Newcastle West, Co. Limerick, Janice and her husband Moss hold healing sessions, to which you can bring your illnesses and your worries. Janice will lay her hands on you, and take away your pain.
But is this manipulation or divine intervention?
This week in Would You Believe, Anna Nolan visits Janice Carrig and spends time with her and her ministry. She witnesses the healing sessions, talks to the people who feel they have been cured, and asks the question - can faith heal?