"Devil's Pack"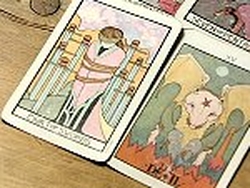 More and more people today are seeking guidance from the Tarot through psychics and mediums. Tom Higgins from Irish Psychics Live says that his company received in excess of 100,000 calls last year. What exactly is the Tarot phenomenon? Why is it becoming so popular? And is it as dangerous as the Christian Churches make it out to be?
WYB reporter Mick Peelo talks to tarot reader Gráinne Ó Méalóid about her ability to see into the future. Most people come because they want to know something about their relationship, their job or their business. The programme eavesdrops on a couple of readings that Gráinne give and talks to her clients.
Fr. Pat Collins, an exorcist and lecturer in spirituality, says that "divination (foretelling the future) is frowned upon by the Catholic Church." He believes that "if people get involved in any form of the occult there's a danger that they're opening themselves to negative spiritual influences that they probably have no idea about, namely the devil." He says that "some tarot readers have psychic powers that many won't be aware of and they can raid your unconscious."
Mark Patrick Hederman, a Benedictine monk from Glenstal Abbey, believes the contrary. He maintains that the Tarot were hijacked by occultists over 200 years ago. "I'm saying we've got to get them back again. They're originally belonging to Christianity and humanity. They are wonderful ways of connecting with the unconscious, so, I say, use them.". And he does.
Brother Hederman also believes that "you can use the Tarot cards as a complete meditation on the Christian way towards God." But he warns that "if any person is telling you that they can tell you what the future holds they are lying because there is no future that has already been planned. We make the future. The future is a mystery."