"Crazy Diamond"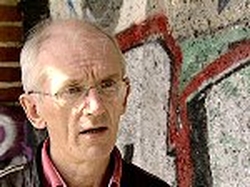 John Edwards
Born into a respectable middle class Dublin family, John Edwards' life is anything but respectable. He is one of the few survivors from the first wave of drug addiction to hit Ireland in the 1960's.
At age 13, he stole one valium tablet from his mother's purse and within a few years he was swallowing over 100 valium a day. Addicted to everything from hash to heroin, he ended up begging and thieving on the streets of London.
In 1987, a powerful encounter with Jesus Christ changed the course of his life. Today he is happily married and living in Scotland where he runs 3 rehabilitation centres helping people find hope while working through their addiction.
Further information on the life and work of John Edwards is available online at www.walkingfree.org