"Walking on Clouds"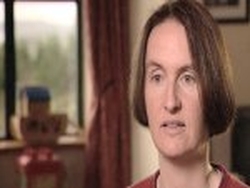 Geraldine Butler
A father with polio and a mother with multiple sclerosis. That was the childhood of Geraldine Butler.
As an outdoor adventure instructor at Delphi Adventure Centre, Co Mayo, Geraldine's active life was in stark contrast to that of her parents.
That was until certain symptoms arose. Numbness in the hands and a feeling that she was 'walking on clouds', resulted in Geraldine being diagnosed with multiple sclerosis.
Geraldine's life of surfing, skiing and climbing has been replaced with a new reality that leaves her unable to pick up her two year old son, let alone run after him.
Multiple Sclerosis is a degenerative disease. How will Geraldine face a future of uncertainty, and what plans has she in place for when things go from bad to worse?
If you'd like further information on Multiple Sclerosis visit:

Web: www.ms-society.ie

Helpline: 1850 233 233

E-mail: info@ms-society.ie