Charlie & Mary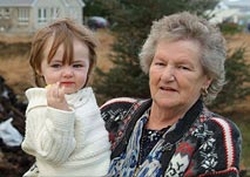 Charley and Ann Boyle
Thirty years ago, a little girl went missing from her grandparents' house in Cashelard, near Ballyshannon, Co. Donegal. Mary was following her Uncle Gerry, across the fields to a neighbouring farm when she turned back. She never returned home. The mystery of Mary Boyle's disappearance shocked the nation and changed Ann Boyle's life forever.
Only for the support from her husband, Charlie, Ann would never have coped. A year and a half ago, Ann received another fatal blow when Charlie died tragically in a fishing accident.
"It was Charlie's wish to know what happened to Mary before he died. Maybe Mary was a long time waiting for somebody to join her. Maybe she needed him more than I did."
Mary had a twin sister, also named Ann after her mother. Ann struggled through life without her soul mate.
"I always felt there was a part of me missing. When I made my communion, when I got married.any event that I would ever have, there was always a part of me missing."
The Boyle household always lived in the shadow of the tragedy of Mary's disappearance. Then at sixteen, Ann, Mary's twin, got pregnant and called the child Mary, after her sister.
"When she was born, she brought happiness back to the house.I wouldn't say she replaced Mary but she filled a kind of gap that was left by Mary."
Then, some years later, when Ann was getting married she was faced with a dilemma.
"When I got married, I had to make a decision to leave Mary with Mom and Dad because I couldn't put them through taking another Mary away from them."
Mary Jnr., is still living in the Boyle home. She too got pregnant at sixteen years old, and just a month after her grandfather's death she gave birth to a girl and named her Charley.
Today, 30 years later, Ann Snr. still pleads for any information on what happened to her daughter. When asked if finding out what happened to Mary could destroy her family, Ann says she would still want to know.
"But I wouldn't like to think it would destroy our family. I wouldn't like it to end that way."
This programme includes interviews with Ann Boyle, Ann Doherty née Boyle, retired Detective Sergeant Martin Collins and Michael Gallagher, Ann Boyle Snr.'s brother.