Bullied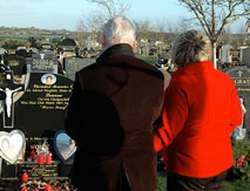 Leanne's parents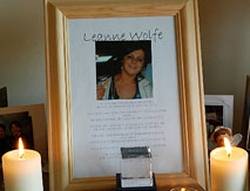 Leanne Wolfe
A year ago, Cork couple Anthony and Collett Wolfe were in Lanzarote having their first holiday alone since raising their three children. A phone call came well after midnight to tell them their youngest girl, Leanne, who'd just turned 18, was dead. She'd taken her own life using prescription pills from her parents' medicine closet.
In the days following her death, none of the family, including Leanne's older sister Triona and her brother Anthony, could fathom what had happened. Leanne had been in particularly good spirits in the weeks and months leading up to that day, and she and her sister really seemed to relish having the place to themselves whilst their parents were away. Leanne was a normal, attractive, exhuberant teenager, and she seemed to have everything to look forward too.
On the morning of her funeral, Triona discovered a secret about her sister and it was like reliving the horror of her death all over. Searching through Leanne's bedroom, she found a collection of diaries and notebooks detailing six years of constant bullying and abuse at the hands of a group of people she numbered among her friends. Most of the bullies were slightly older than Leanne. Since she was about 13, they had been excluding her, taunting her, beating her up, harrassing her in numerous ways, including threats made by text messaging and the internet. The bullies, who included boys she knew, weren't averse to using her as a taxi driver once she reached 17 and got her own car. but then again they damaged her car several times too. Her family was completely unaware of all of this; desperate to fit in - to belong - Leanne had hidden everything from them.
After the diaries were found, her mother personally called all the bullies Leanne had named and told them not to come to the funeral; many of these had attended the removal the previous evening. Now, they stayed away. Despite the strenuous efforts of a local Garda, in the end nobody was ever charged with anything and no-one offered any kind of apology to the family. The Coroner's Inquest delivered a verdict of death by self-harm but the Wolfes were not happy: they wanted bullying to be recorded as the underlying cause. They say their daughter was bullied to death.
The family has since discovered that serious bullying, with the potential to contribute to or spur a person to suicide, is pretty common in Ireland - and all ages are affected. But there are no high-profile anti-bullying campaigns and no specific legislation planned to counter the peculiar forms of abuse bullying engenders. Reported bullying in Irish secondary schools has now risen to 36% of all pupils - a horrifying statistic but not one which has resulted in any radical or high-profile campaign from any government department. All schools are obliged to have a bullying policy, according to the Dept of Education, but these clearly aren't working well enough. In this territory, there is a marked silence not only from individual victims but from Irish society as a whole. According to Prof. Mona O'Moore of Trinity College Dublin's Anti-Bullying Centre, silence over the issue allows bullies to get away with murder.