'Bridging the Gap'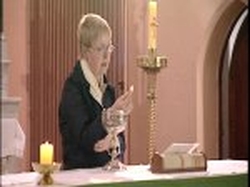 Although the population of the country is growing, the number of clergy is falling. In 1985 there were 86 ordinations, compared to 13 last year. Although Mass attendance has also dropped, it has not done so at the same rate as vocations to the Church. If current trends persist, this shortfall of priests will become a crisis in the years ahead.
The Church is adapting to this, with more and more lay people - both volunteers and professional diocesan workers performing tasks previously done by clergy.
Bridging the Gap looks at the fact that Communion Services are now being led by lay people, that there are more and more lay chaplains in schools, and that the traditional role of the diocesan advisor is now becoming a job open to non-clergy who can work fulltime in the Church without being ordained.
A funeral ministry has been set up in Newbridge to help the bereaved and relieve some of the pressure on the overworked local priests, and pastoral councils are taking a more active role in the day-to-day running of their parishes.
As lay involvement grows, and the number of clergy declines, is there any limit to the roles that lay people will play in the Church of the future?