A Portrait of Brian Hannon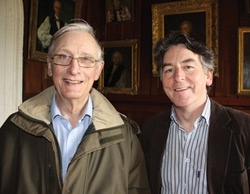 RTÉ One, Sunday 15 April, 10.35pm
Brian Hannon had plans for his retirement. He'd been a priest in Derry and a bishop in Enniskillen during the worst troubles in Northern Ireland. After spending 15 years as Bishop of Clogher, he was looking forward to spending more time with his family and grandchildren. Then in 2007, only five years into his retirement, he was diagnosed with Alzheimer's disease. In this Would You Believe? Programme, Brian talks openly with reporter Mick Peelo, about how he has been working hard to keep his life as 'normal' as possible. In order to help others he wishes to share his experience of how he has learnt to live with the disease. 'It can drive you mad talking about it, it doesn't help you, so I decided to go and live a normal life and see what happens.'
While life might appear to be 'normal' for Brian his wife Maeve sees another side of him. Each day brings new challenges. For the first few months after Brian's diagnosis, they both felt depressed and helpless. Then they both vowed to be positive and to live each day as it comes and enjoy life while they can. And that has been the situation for the past four years, Maeve with her horses, Brian with his 'Code Word' puzzle, to keep his mind active, and his driving and walking his dog. But, as the days creep into months and the months to years, Maeve notices a gradual deterioration in Brian's condition.
Maeve realises that the future could be bleak as a full-time carer for someone who may not even recognise her or his world any more, for someone who has literally, lost their mind. Brian is aware that this could be his future too and faces 'head on' the question of when does a person who has lost their mind 'cease to be a person?'
Alzheimer National Helpline:
If you are a person with dementia or caring for some-one with dementia and want to talk to someone who understands; you can call the Alzheimer National Helpline on Freephone 1800 341 341. Lines are open Monday to Friday from 10am - 4pm.