Bishop Undercover - A Would You Believe? Special: Part 1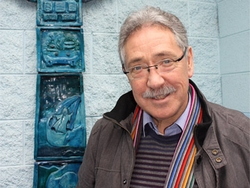 RTÉ One, Sunday 18 March, 10.35pm
In a two-part Would You Believe? special, Trevor Williams, Church of Ireland Bishop of Limerick and Killaloe, goes undercover, to find out firsthand about the needs of the people on his patch, before challenging himself and the Church he leads to do a better job of meeting them.
The Right Rev'd Trevor Williams is the Church of Ireland Bishop of Limerick and Killaloe. He presides over 16 parishes and 64 churches across five counties. Like the leaders of most Church denominations in today's Ireland, he is facing a crisis of declining membership, resources and relevance. Just 3,000 people regularly attend his churches.
By his own admission, Trevor is an unlikely choice of Bishop. Raised by a single parent in Dublin, after his father's premature death, it was service, not ambition, which took him into the Church. He worked previously in cross-border, cross-community mediation at Northern Ireland's Corrymeela Centre. He was also a BBC radio broadcaster, although he remains shy and a reluctant performer.
At a time of national emergency, when people's social and spiritual needs are as great as they have been for generations, why, instead of people turning to the Church for inspiration, support and guidance, are they turning away from it?
Clearly, if people aren't going to church, the Church must go to the people, so Bishop Trevor sets out to find out about their needs, before challenging himself to do something about meeting them. To do so, he ditches the trappings of his Bishop's role, which, he feels, puts a barrier between people. He wants people to talk to him on the level, without deference or prejudice: "I have been a Bishop for four years and I'm just about getting my feet under the table. I'm about to embark on this journey, because I need to find what my role is. I need to get in touch with community and find out what makes people tick."
In part one, Trevor heads to St Munchin's Family Resource Centre on Limerick's Northside, where he dons a hair-net to work in the kitchen, preparing meals on wheels, before delivering them to some of the city's most vulnerable people.
In Kenmare, Trevor joins a church-run Men's Shed Club, where men are learning practical skills, side-by-side. The group knows it is playing host to a Would You Believe? documentary, but they have no idea that the latest man in the shed is a Bishop.
And, on the coat-tails of a Would You Believe? film crew, he enters a classroom in St. Anne's Community College, a Co-Ed school in Killaloe, Co. Clare, where none of the students know that the presenter to whom they're offering a frank critique of the Church is one of its leaders. Can he inspire them? Can they inspire them?