Beyond Words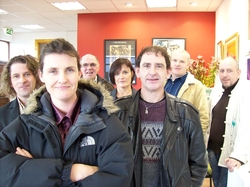 Anna Nolan with course directors Peadar McDaid and Mary Harte and some of the students on the course.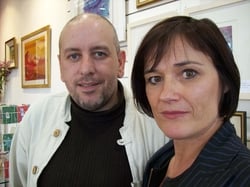 Peadar McDaid and Mary Harte who run the Create a Link centre
Click here to watch this programme...
The WYB team spend a week at the Create-A-Link Art Centre in Donegal which runs a specialised course for people recovering from mental health problems.
Peadar McDaid runs and teaches in the Create-A-Link Art Centre in Letterkenny, Co Donegal. When he first started work, he had huge concerns about the people he would encounter, and their illnesses. He was scared of what he had heard about mental illnesses.
Create-A-Link was formed in 2002 to help people with mental health problems, through art. People with a wide range of mental health issues (depression, schizophrenia, obsessive compulsive disorder, addiction to alcohol and drugs) come through the doors, to complete either a one year, or a two year arts course. Their aim is to work through their illness, through art.
Tony, a Create-A-Link graduate, now studying at Dun Laoghaire College of Art, arrived several years ago at the centre with drink and drug addictions.
"I know it sounds cheesy but I feel like I've been given a second chance. This place really equipped me to live life again."
Painter James Mc Manus, who just recently had his own exhibition after years of
feeling isolated from the world says,
"I went so quick through the first 40 years of my life it was gone in the blink of an eye. The other day I was thinking maybe I'll get a car again then I thought no, I'll walk through this bit of life and look at things. That's why I like painting. "
James said his art had allowed people into his heart,
"I had shut out the world, now the world is coming in"
Last month, an art gallery attached to Create-A-Link, was officially opened. "Art Co." provides an opportunity to those who have participated in the course, to sell their very personal works.
This week Would You Believe spends the week at the Create-A-Link Art Centre and Art Co. Gallery. Reporter Anna Nolan meets some extraordinary people dealing with mental health issues and getting very interesting and encouraging results.