Back to the Future - Part 2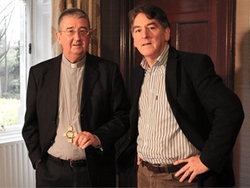 RTÉ One, Sunday 11 December, 10.35pm
With church attendance and vocations on the slide, Mick Peelo asks why so many parents still want Catholic baptism, communion, confirmation and marriage for their children. For many, Catholicism is now more a matter of habit than belief, so is it time the Church started turning away people who don't pass the test of faith?
In this second programme on the future of the Catholic church in Ireland, Mick visits a young and vibrant parish in Lucan in West Dublin which is being heralded as a new way forward for the Church. It's got a full time Parish worker, Colette Kavanagh who works closely with Fr John Hassett, the moderator, the man who is fundamentally responsible for the pastoral needs of the 40,000 Catholics in the area, out of which, about 30% are practicing Catholics. This parish is confronted with all the major challenges the Catholic Church is facing nationally today.
The programme also explore the link between schools and sacraments and the impact of Archbishop Diarmuid Martin's call that some of his 470 schools should divest their Catholic patronage.
Educationalist Brian Mooney believes that the Catholic Church is facilitating a cosy cultural Catholicism in both its parishes and schools by welcoming all to the sacraments regardless of their faith? "But if the Catholic Church challenges and says to parents, 'I'm sorry, you're not coming through this door unless you believe in this', that is going to cause ructions in society."
"We need to ask parents, if you're not practicing why do you want your child to receive the sacraments? It's not to exclude people, it's just asking people to consider why they want this?"
- Parish Pastoral Worker, Colette Kavanagh
"It requires maturity on two sides: maturity on those people who want their children to become members of the church community and maturity among those people who say 'I don't believe in god, I really shouldn't be hanging on to the vestiges of faith when I don't really believe in it." - Archbishop Diarmuid Martin
It's not 90% of the people who just want a social sacrament.I think it's much more complex than that. I think people who were non-practitioners during the years of their twenties , now they're married and they are seeking not always a hundred percent sure, not always a hundred percent thought out, what it is they want to hand on, but they do want to hand on a tradition." - Fr John Hassett
Michael Drumm of the Catholic Schools Partnership, the umbrella body that supports all partners in Catholic education, says that "we are living through a period of huge significance and what the outcome of it will be will determine the future of the Irish Church for the next century or more."