Auntie's Family Secrets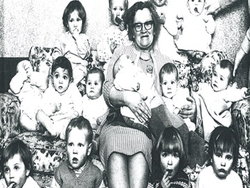 RTÉ One, Sunday 5 June, 9.30pm
The many children raised by Miss Adeline Mathers in the Protestant Westbank home in Greystones, Co. Wicklow called her "Auntie", because she turned the orphanage into a family home. Now, though, some former residents reveal there was also a darker side to life in that "family".
Miss Adeline Mathers was the matriarch of a small, privately-run orphanage for Protestant children from 1946 - 1999. For many years, she took in infants as young as 10 days old and steered them into adulthood. She was a Born Again Christian, who accepted no funding from the State or mainstream Churches, because she didn't want them to interfere in the running of the home.
With no staff to help her, Miss Mathers reared the children within her own strict religious and moral framework. Despite their difficult or impoverished backgrounds, many went on to attend the best schools in the country and make a success of their lives. So much so, that towards the end of her life, Miss Mathers was made Greystones "Person of the Year".
However, not all the children who passed through her hands remember Miss Mathers as the Christian hero of popular memory. Some harbour deep grievances about their treatment at the hands of the woman they called "Auntie", alleging that, for them, there was another much darker side to life in this "family".
Reporter Mick Peelo delves into this complex "family" to find out what really happened behind the closed doors of what became known as 'Westbank Children's Home'.
Dorothy McKeown arrived in the Orphanage in 1952 when she was two years old and stayed there 'til she married in 1975. She has very positive memories of life there: "My childhood was normal.I always remember Auntie telling us we weren't orphans, because she was our Mum and God was our father."
Colm Begley has very different memories. He arrived in the Home in 1966 and remained there until he was 18 years old. Colm alleges that he was regularly beaten, that he frequently went hungry and that he was mysteriously injected, as a punishment and treatment for wetting the bed, during his childhood days in the home.
Ken Moore, who was placed in the home at the same time as Colm, spent almost 30 years there. In 1980 at the age of 14, he was beaten so badly by Miss Mathers for wetting the bed that the local doctor reported the matter to the Chief Medical Officer in Wicklow at the time. For Ken, this explodes the "family" myth: "A mother wouldn't do that to her own kid..Anyone that would do that I wouldn't class them as a mother."
Some of Westbank's Trustees at the time were told about the beating, and yet "Auntie" remained in charge of the home.
Helen Fitzpatrick, the daughter of a young, single traveller woman, came to the orphanage in 1973, at the age of 18 months and stayed until she was 19. She alleges that she lived in fear all the time and recounts how, as a child, she witnessed and experienced beatings which sent terror through the whole house. "I think I was so terrorised that I wet my underwear that day. I remember the fear. going into a room and putting my hands in my face and crying 'Oh my God, will somebody come and rescue me?"
Mick Peelo discovers that Miss Mathers facilitated a number of unorthodox and illegal adoptions. She also concealed from some of "her" children details of their natural family backgrounds and refused to help them find their relatives.
Andrew Yates was legally adopted after a couple who had been temporarily looking after him came to the conclusion that he was being neglected in Westbank. They brought him to live in the North of Ireland, where he had a very happy upbringing. Unknown to him, however, Andrew had a brother in the home. Miss Mathers had changed both their surnames to her own, so no-one except her knew that Andrew's adoption separated him from his brother.
Even when, as an adult, he returned to Westbank, looking for any information about his natural family, Miss Mathers denied she knew anything about them. The brothers eventually traced each other twenty years later, but Colm is bitter about this, believing it was twenty years too late. "I look at my brother Andrew, the way his life has turned out. If only I had been given that opportunity, I could have been like my brother."
All these revelations have caused turmoil among Auntie's family and split it down the middle. Some deny anything happened; others are prepared to forgive and forget; while others still want justice.
Referring to the inscription on Miss Mathers' grave: 'Auntie, a mother to many at Westbank,' Colm says, "I would change that.I would put 'an abuser to many,' because she abused too many people and she got away with it." Others, however, feel that calling Miss Mathers 'mother' is a fitting tribute to a deeply Christian woman, who gave her life to looking after other people's children. Dorothy is still loyal: "She was a fantastic role model for us and I thank God every day of my life that I was raised with Auntie." Ken, however, is not so sure: "There will be some people who will always praise people and some people could see through her."
Mick Peelo does his best to reconcile these conflicting accounts and views, in order to piece together the truth about "Auntie" and the children of Westbank. He also tries to find out how, even after public attention had been drawn to abuse in Catholic children's institutions, Miss Mathers' forceful personality and unorthodox methods allowed this Protestant home to remain above suspicion.