And Vespa makes 5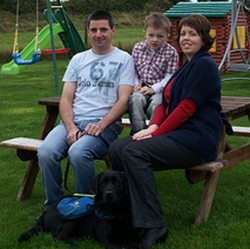 Joe, Tomas, Sonia and Vespa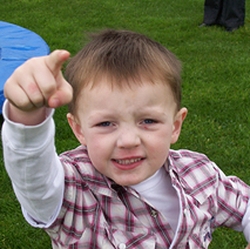 Tomas
Sonia and Joe Callaghan live near Drogheda Co. Louth, with their sons Tomas (4) and Ronan (2).
Sonia and Joe's lives changed dramatically when Tomas was born. He was a cross, colicky baby and used to sleep beside the tumble dryer sometimes because he liked the sound of it.
Up until about 18months he appeared to be a normal little toddler. Then as the months went by Sonia began to notice change in his behaviour - crying fits, temper tantrums, repetitive behaviour. Sonia spoke to Joe about the idea of Tomas being autistic, but they were reluctant to investigate. They knew the future of autism as they both worked in the health service.
When Sonia had her second child, Ronan, things became even more difficult. Tomas was showing signs of being jealous, Sonia and Joe had no time for themselves, and their approach to living was 'one day at a time'.
"We had got to the point where going out in public was just too hard".
Things came to a head one day when Sonia was in McDonalds with her two young sons. The place became very full and Tomas became agitated and threw a tantrum. Ronan started screaming. Sonia eventually had to try and make her way out with Tomas under one arm (wedging himself in the double doors with his feet) and Ronan now hysterical. Tomas then bit a passer by.
"When things weren't going Tomas way, you really knew about it".
And then along came Vespa.
Vespa is an Assistance Dog that came from the Irish Guide Dogs in Cork. Sonia saw an article about the Assistance Dog programme and felt this could be exactly what the family needed. After Sonia went through the training, she brought the dog home to Tomas. He spent a difficult few months adjusting to this animal that was to become his companion and protector.
Tomas never goes anywhere now without being attached to his dog. She accompanies him to school and back. Tomas goes to one of the ABA (Applied Behavioural Analysis) pilot schools in Drogheda. Throughout the day and night, Vespa is around Tomas.
The advantages of having Vespa are enormous, mainly that she keeps Tomas safe when he is out and about. Normally Tomas would run off if the family were in town, and before Vespa came along, Sonia would be under constant pressure to keep Tomas close beside her. "Tomas would see something and would decide that was where he was going, and no amount of begging or pleading would make him change direction"
Vespa has brought a calmness to a previously increasingly agitated Tomas. She has made family life a different place.
"Their relationship is unique to them. Does he love her? I believe he loves her, as much as anyone with autism can ever get the whole concept of love".

"We couldn't do a day without Vespa, we couldn't cope"
From the moment he wakes up, to the moment he goes asleep, Tomas has Vespa to keep him safe, to guide him through life and to push him where he should go.