A Fall from Heaven on Earth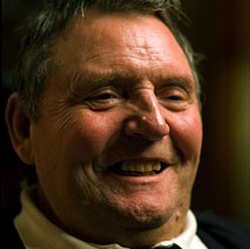 John Curran
The inspiring story of John and Margaret Curran who, against the odds, kept a marriage and a family intact despite a tragic fall that left John paralysed from the neck down over 30 years ago.
"Overnight I'd gone from a physically fit man in his prime to somebody who couldn't move one finger", John Curran
"When John had his accident we were just married 12 years. It's nearly 30 years since his accident and John often says that if he got life, if he was in Portlaoise, he'd be out now if he got 30 years." - Margaret Curran - Carer of the year 2007
John Curran was reared on a small farm overlooking Ballinskellings Bay, near Waterville, in Co. Kerry. To him, it's the most beautiful place on earth. Today, having reared their family under extraordinary circumstances, this unspoilt landscape is home to John and his wife Margaret. It's their little piece of heaven on earth.
But it wasn't always this way. John and Margaret Curran have come full circle, from a happy couple rearing young kids in the 70's in glorious Waterville to two individuals forced to deal with, and make sense of, a tragic accident that changed their lives forever; to a retired couple today who are an inspiration to anyone who meets them.
In 1978 John fell from a roof and suffered a broken neck that left him quadriplegic, paralysed from the neck down. They had 4 young children under 10 years old, their youngest was just 5 weeks when the accident happened.
This has all the appearances of a tragic story. it's anything but.it's the story of two extraordinary people whose zest for life rubs off on anyone who is lucky enough to cross their path. Their fall from heaven on earth forced them to re-evaluate their lives and their dreams and while they are both realistic enough to wish it never happened, they can still see the 'heaven' on their earth despite all they have been through.

Books by John Curran available at www.curranpublishing.ie
Spinal injuries Ireland www.spinalinjuries.ie
Carers association of Ireland info@carersireland.com