WOULD YOU BELIEVE? One Hundred Thousand Welcomes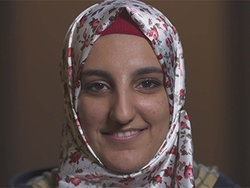 The war in Syria is the worst humanitarian and refugee crisis since World War II. Ireland has committed to take in 4,000 Syrian refugees, and the first of these have already started to arrive on our shores. In Ireland we pride ourselves on our reputation for the Céad Míle Fáilte - the welcome we extend to all strangers. But what has the welcome been like for Syrian families now living in our communities? And what is it that has compelled some Irish people to reach out to welcome these strangers?
Rekad Shouman fled Syria with her husband and five children after their neighbourhood in Homs was bombed. The Shouman family came first to Clonea, Co.Waterford from a refugee camp in the Lebanon and are now living in Cork. They have forged deep friendships with some of the local women from the Déise Refugee Response. For Audrey Halahan and Carmel Keith it has been important to actively reach out to these newcomers as a way of living their Christian faith.
We meet Radwan Abouhajir, who worked as an agricultural banker back home in Aleppo, but is now teaching English. He has settled with his wife and two young daughters in Portlaoise alongside twelve other Syrian families. Radwan brought his extensive knowledge of Syrian plants to the creation of a Syrian Garden, which earned his horticultural tutor Brian Burke a silver medal in Bloom 2016. The local priests of Portlaoise parish have opened up the Catholic Parish Centre to these Muslim families to celebrate Eid and hold Arabic classes for their children.
And we speak with Fatima al Hariri, who has only recently arrived in Mosney Accommodation Centre with three of her six children. Nine months ago they had to undertake a treacherous sea crossing from Turkey to Greece. Fatima weeps when she describes how beautiful her country Syria was before the war and thanks Ireland for giving her peace and hope for her children. The Mosque in Blanchardstown is holding a series of welcoming ceremonies for the newly arrived Syrian refugees. The Imam Shaykh Umar Al Quadri explains that in the Muslim faith, the Prophet calls on his people to honour the country which takes you in, even more than the one you originally came from.