About the Show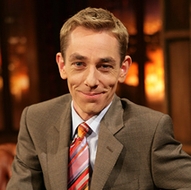 Ryan
Looking for that something special this Saturday Night?
Tubridy Tonight has guaranteed entertainment from your favourite Saturday Night host, Ryan Tubridy.
This season is proving to be as much fun as ever with the best in chat from International and Irish celebrities, quality musical acts, regular house band, The Camembert Quartet and a live studio audience that just don't want to go home!
Ryan's sharp wit, and energetic interviewing style makes Tubridy Tonight must see T.V. this season!
Series Producer: Kathy Fox
Producer: James Cotter
Director: Niamh White
Broadcast Co-ordinator: Barbara Kavanagh
Programme Dept Assistant: Anna Egan
Researchers: Ronán Murphy, Rania Atamna, David Landy
Resaearcher/Music Associate: Katherine Drohan
Audience Researcher: Caroline Murphy