Saturday, 22 March 2008
Deirdre O'Kane
One of Ireland's funniest females chatted about how tough stand-up can be for a woman and why she is taking a back seat from comedy to focus on her blossoming acting career. We also got the low-down on her latest venture, the raunchy drama Bittersweet, which bears favourable comparisons to Sex and the City.
Linda Lusardi
With no previous ice-skating experience, the page three girl turned actress had a huge challenge on her hands when she decided to take part in Dancing on Ice. But she soon got the hang of things, and even became so attached to her professional skating partner, Daniel, that not only did he go on holidays with her and her family, but he moved into their home too.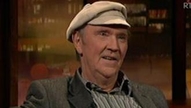 Liam Clancy
With decades in the music business, Liam Clancy is a living legend who entertained us all with tales about his friendship with Bob Dylan, playing for JFK, and partying in the Playboy mansion! To top it all off he raised the roof with an impromptu rap version of Johnny McAdoo - TV gold!
Wax Lyrical
The audience was reduced to tears of laughter when this pair of lads from Cork and Carlow honked their hooters and belted out cheesy tunes to win the audience prizes. Things got even funnier when the loser had to take part in our embarrassing forfeit. Check out the video link and cringe!
Elbow
We had music from a Manchester act that is still producing inventive, playful and powerful pop music after an impressive fifteen years in the business. Elbow blew the house down with a captivating performance of their new single, Grounds For Divorce. If you'd like to win signed copies of their album The Seldom Seen Kid please email us at tubridy.tonight@rte.ie