Saturday, 13 October 2007
Gemma Craven
Our first guest of the evening was Dublin born actress Gemma Craven who entertained the audience with her hilarious tales of how she went from convent school girl to controversial actress in the BBC series Pennies from Heaven. Thirty years on and she is still causing a stir as Dr. Julia Brady in the ever popular medical drama The Clinic. Ryan showed both Gemma and the audience a sneak preview of her saucy clip with fellow actor Keith McErlane, who is 30 year's her junior.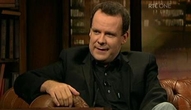 Neil Delamere
Neil Delamere had Ryan and the audience in fits of laughter when he chatted to Ryan about his recent stint at the Edinburgh Festival and his new DVD No Message. Neil talked about the rivalry between Irish comedians, his travels abroad, and his love for Liverpool women and in particular, their accents.
Pattie Boyd

The eternally elegant Pattie Boyd, talked to Ryan all about life as a sixties icon and the thrill of being pursued by and married to music legends George Harrison and Eric Clapton. She certainly made all the women in the audience green-eyed with her account of how she inspired classics such as Wonderful Tonight and Something.
Marty Morrissey
The ever popular Marty Morrissey spoke to Ryan about his love of all things G.A.A and how little Marty from the Bronx grew up to do his first broadcast from the back of a tractor in Co. Clare. He denied the accusation that he's the sex symbol of Quilty but established that he often gets mistaken for Marty Whelan!
Fight Like Apes
We closed the show with a great performance from Irish band Fight like Apes. They performed their current single Jake Summers. Their new album David Carradine Is A Bounty Hunter Who's Robotic Arm Hates Your Crotch is out now. To win exclusive signed copies of the album contact us on tubridytonight@rte.ie