Saturday, 19 May 2007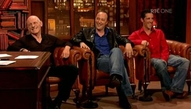 Gerard Byrne, Peter Corry and Gavin O'Fearraigh
For a number of weeks, ten celebrities put their bodies through all manner of unnatural contortions for the purpose of entertainment on "Celebrity Jigs and Reels". Talent, determination. and a bit of luck paved the way to the final for Gerard Byrne, Peter Corry and Gavin O'Fearraigh. On the eve of the final public vote, the three finalists joined Ryan on the couch to tell about the good, the bad and the ugly of Irish dancing. Peter revealed his underwear superstition; Gerard confessed slipping in his own sweat and Gavin explained how he was punched in the nose by his dancing partner.
Peter Corry's new album "Keeping the Dream Alive" is out now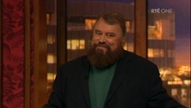 Brian Blessed
Brian Blessed has been a well known actor since the early 1960s. He memorably played Caesar Augustus in "I, Claudius" and appeared in such films as "Flash Gordon", "Robin Hood: Prince of Thieves" and "Star Wars: The Phantom Menace".
A larger than life character, Brian joked about his acting days, his friendship with Star Trek actor Patrick Stewart and playing the villain in Tarzan.
Brian spoke about the catch phrase "Gordon's alive" - which has stuck with him; and how all his fans, including the Queen have asked him to "do it".
Brian is also an irrepressible adventurer, and told Ryan how he climbed the Everest three times and now plans, at the age of 70 to go into space.

Pauline Mc Lynn
Pauline Mc Lynn is one of the most recognisable faces on television. her portrayal of the tea obsessed housekeeper in Fr. Ted has guaranteed her place in comedy history, but while filming the hit comedy series, she tried her hand at writing. Pauline chatted about the "filthy bits" in her latest novel "Bright Lights and Promises", being married to an actor's agent, the pitfalls of show business, meeting the President, flying first class, and acting alongside Tom Cruise.
"Bright Lights and Promises", Pauline McLynn's sixth novel is out now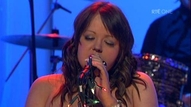 Paula Flynn
Originally recorded for a laugh, Paula Flynn's hauntingly sexy cover of David Bowie's classic "Let's Dance" is currently making waves. The cover found its way into the hands of the Ballygowan advertising executives. and the voice did it for them . Accompanied by Stellar Sound, Paula performed "Let's Dance" - which was recently released as a single and is now available for download from i-tunes.