Saturday, 14 April 2007
Joanna Lumley
Joanna Lumley's acting career began with a role as a bond girl in "On Our Majesty's Secret Service" - since then she has played many memorable parts including Purdey, the glamorous secret agent in The New Avengers and Patsy, the alcoholic fashion editor in Absolutely Fabulous. Joanna told Ryan about the whole "Bond experience", Pasty 's political incorrectness and attributed the massive success of the series to the script which was "good, well written and funny". Joanna also spoke of her friendship with the late Gareth Hunt, the iconic Purdey haircut and explained how Purdey was an inspiration to Nelson Mandela. In a hilarious account Joanna also revealed how she cuts her own hair, and told Ryan of the joys of being a grandmother.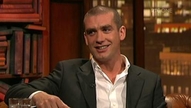 John McGuire
A self made millionaire who bought his first house at the age of 22, John McGuire has since made his fortune in the property business and is now a successful financial consultant. He is also the presenter of the RTÉ series "I'm an Adult Get Me Out
of Here". John told Ryan about the "KEPPERS", meaning "Kids Eating in Parents' Pockets Eroding Retirement Savings" and said the main reason for adults to stay at home is "because they have too easy, or they want to save money". John also joked about the tricky wordings estates agents employ in order to secure a sale, chatted about the entrepreneurial streak he inherited from his father, coyly laughed about his nomination for the "sexiest presenter" gong in the TV Now Awards, and also predicted a turn around in the property market by the close of the year.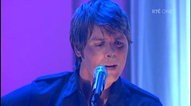 Brian Mc Fadden
Brian Mc Fadden has had phenomenal chart success worldwide. With Westlife he sold over 30 million records and clocked up at total of twelve number ones before embarking on a solo career. More recently he has been dividing his time between London and Australia penning tracks for his new album. Brian made a welcome return to Tubridy Tonight to perform his latest single "Like Only A Woman Can".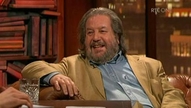 Paulo Tuillo
Paulo Tuillo is probably best known as a restaurant critic but he's also been known to occasionally tread the boards as an actor. Paolo told Ryan about taking part in such movies as "The General", "The Tailor of Panama" and "The Butcher Boy", revisited his early career as a physiatrist, and explained how he left it - because he thought it was "a bit of bollox"- . to engage in cattle dealing. Paolo also chatted about opening his first restaurant in 1977, his upmarket clientele, stating Charles Haughey as his "favourite customer", and joked about the culinary differences and drinking habits between Ireland and Italy.