Saturday, 31 March 2007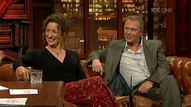 Carrie Crowley and Conor Mullen
Former TV and radio star turned actress, Carrie Crowley and actor Conor Mullen told Ryan about their new collaboration - the TV production of Maeve Binchy's "Anner House". Conor said that filming in South Africa beats filming under the "lashing rain of say Monaghan" .Carrie confessed enjoying South African food so much so that she "blew [her] entire week's allowance in one sitting". On moving from presenting to acting Carrie said "I just realised I was in the wrong job. acting is what I love doing".
Andy Summers
Best known for his distinctive guitar playing on such iconic songs as Roxanne, So Lonely and Message in a Bottle, Andy Summers is a revered guitarist and a member of one of the world's most renowned bands. Andy chatted to Ryan about his recently published autobiography, the coincidence that led him to join the multi-million selling band, his sometimes explosive relationship with his former band mates, and the powerful effects of fame. On the spectacular Police reunion, Andy explained how after many years of ignoring the "elephant in the room" a photograph taken at last year's Sundance Film Festival of the three ex-Police members triggered a reunion tour that started with 80 dates, expanding to 92, with dates still being added.

"One Train Later", Andy Summers autobiography is out now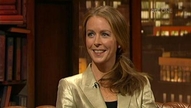 Jean Butler
Hailing from Long Island, Jean Butler is now known worldwide for her mastery of the Irish Jig. The flame haired dancer told Ryan about her first Irish dancing class at the age of four, and confessed "it was a bit of a bumpy start". Jean also chatted about touring with the Chieftains for six years before bursting onto TV
screens as part of the interval act for the 1994 Eurovision when she and her dancing partner Michael Flatley changed the image of Irish
dancing forever. Among the many Irish dancing fans across the world, Jean said Japanese fans are the most fervent and "they do make you feel very important".

Celebrity Jigs 'n' Reels goes out on RTÉ One on Sundays at 6.30pm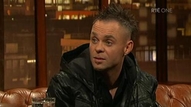 Brian Harvey
Brian Harvey was a member of one of Britain's biggest boybands of the 1990s. With East 17, he enjoyed massive successes and had 18 hit singles before a run of bad luck turned his life upside down. The outspoken Londoner told Ryan how he was viscously attacked by a gang of five men outside a night club, then came the infamous "E" interview, where he claimed it was "alright" to take ecstasy, and was consequently sacked from East 17 (but has since admitted he was "wrong") and finally spoke about the freakish accident where he ran himself over.