Saturday, 17 March 2007
Ray Houghton
Ray Houghton is a true Irish hero. he is known the length and breadth of the country simply as the man who put the ball in the English net. It was 1988 in Stuttgart when Ray scored against the "old enemy" England. "I'll never get sick of seeing it!" he said of the first goal he ever scored for Ireland. Ray also chatted about the game against Italy in the USA World Cup of 1994. He described the Hillsborough disaster as one of the darkest moments of his career, and explained how, despite totalling 73 Caps for Ireland, he never got a testimonial. Ray discussed the current state of Irish soccer and his hopes for the team. Ray also chatted about delivering his baby daughter and said returning to Ireland is always a pleasure.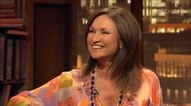 Celia Holman-Lee
With a host of awards to prove it, Celia Holman-Lee is one of Ireland's most stylish women. Born and bred in Limerick, Celia told Ryan how she became a professional model at the age of 15. Now running her very own model agency, Celia agreed she is a tough task master, but "I put my heart and my soul into what I do" she added.
Among her top tips for looking amazing she told Ryan "I have never smoked, but the great gift anyone can give themselves is posture. Your posture is everything. No matter what age you are, you can give it to yourself".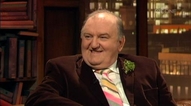 George Hook
George Hook can't exactly be described as the shy, retiring type. In a big and somewhat disappointing day for Irish rugby George revisited the matches of the day and in his trademark outspokenness he joked "watching England is always turgid!" George then went on to spill the beans on his relation with Tom McGurk and said that he and Tom "are totally different!" George said he is a cool and collected rugby commentator whereas Tom gets so passionate that has been known to knock cups and saucers over in the studio! To prove what a hopeless romantic he is, George revealed that he asked the "lovely Ingrid" to marry him on their second date, wrote to her every day for two years. and cancelled the wedding for a rugby match!"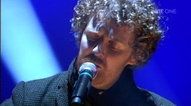 Glen Hansard
Glen Hansard is not only one of Ireland's most popular singers but he's also an accomplished actor. Having first come to the public's attention in the film "The Commitments" Glen is now back to the screen in the lead role in "Once", a film which won the World Cinema Audience Award at the Sundance Film Festival...
Singing a song from the movie called "Say It To Me Now", Glen also chatted to Ryan about the story of the film and told him how proud he is of the result.