Saturday, 10 March 2007
Louis Walsh
Louis Walsh started his career in the 1970s as a band manager working on the showband circuit. but life changed utterly for him when in 1994 he dreamt up a little group called Boyzone and if that wasn't enough he followed that sensation with Westlife and a number of other successful acts. In a candid and honest interview, Louis told Ryan about "getting the chop" by The X-Factor bosses, his show-biz pals, and "getting fed-up with parties", burying the hatchet with Ronan Keating and a possible Boyzone reunion. Louis' next project is a book called "Fast Track to be a Popstar".
Cleo Rocos
Cleo Rocos is best known as the glamorous
and curvaceous side kick to the comedian Kenny Everett.
More recently she was involved in Celebrity Big Brother - one of the most controversial television programmes of the past few years. On Celebrity Big Brother Cleo said "the house that we were living in wasn't the house that you saw on television". Cleo also chatted about the beautiful love that united her to Kenny Everett, their wonderfully eccentric relationship, their "four and a half days engagement." Kenny once sent her "three tones of bananas" to show how much he missed her.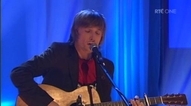 The Divine Comedy
His latest album "Victory for The Common Muse" picked up the Choice Music Prize last week. Thoroughly deserved it was too. Singing "A Lady of a Certain Age" a song in which the hero meets a once glamorous society lady in a late night bar in Nice, Neil Hannon made a welcome return to Tubridy Tonight.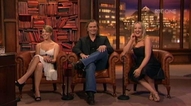 Daithi O'Se, Aoife Ni Thuraisc and Sinead Ni Loideain.
Last week saw the beginning of Seachtain Na Gaeilge.which is a two week festival devoted to promoting Irish language and culture. To talk about the importance of the language and all things Gaeilge, Ryan was joined by TG Ceathair's brightest young stars.
The panel told Ryan how the Irish language has gone from scary to cool and even sexy. Aoife joked about the wonderful . and sometimes weird world of Paisean Fashion. Sinead explained how TG4 is also about giving people the confidence to speak Irish.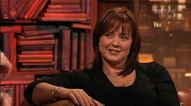 Coleen Nolan
She's gone from being a Nolan sister to being a "loose woman" - Coleen Nolan joked about "being a mistake" and the challenges of being the youngest of on of the most successful sister acts in pop history. Despite their multimillion selling albums, Coleen told Ryan how the band was "ripped off by managers and record companies". Coleen also clarified the tabloid story about her son's planned trip to Amsterdam, discussed the crash diet that lost her three stone in three months and was very excited about her wedding at Christmas.