Saturday, 3 March 2007
Trudie Styler
The Police famously reformed to play at her wedding which was no surprise, really, as she married the lead singer Sting. Trudie told Ryan about the joy of being married to one of the world's biggest rock stars, her humble beginnings ("my mum was a dinner lady" she told Ryan), introducing Madonna to Guy Richie, and hanging out in Conemara with Peter and Kate O'Toole.
An accomplished actress and film-maker Trudy's credits include movies such as "Lock Stock and Two Smoking Barrels", "Snatch" and "Alpha Male". As an actress Trudie has been in everything from Miss Marple to Friends. When asked why she chose to "play herself" in an episode of Friends she frankly said "because they offered me 25 thousand dollars!".
A guide to recognise your Saints, a film produced by Trudie Styler is out now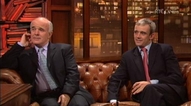 Ted and Ruby Walsh
With Cheltenham around the corner, Ryan was joined by, not one, but two true giants of the horse racing world. Ruby Walsh pulled off a rare double when he rode the winners in both the English and the Irish Grand Nationals. a feat he achieved no less than twice. The first time round his father, Ted actually trained both the winning horses. Ted explained why the Cheltenham festival is so popular: "If you're into the gambling, there is no better place. The prizes are good, lots of Irish horses, you can loose as much as you like, or maybe win as much as you can. Fellas have come back with the price of a house or the price of a car, and some fellas have come back absolutely skint. but that's the buzz they get. four days of everything you're not supposed to do and loads of it."
Father and son described the Papillion win at Aintree in 2000 as one of the proudest moment in their lives, and Ted compared it to "watching your numbers coming up on the Lotto".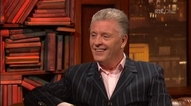 Derek Acorah
His books and DVDs are a constant feature of the best sellers' lists and his TV programme has made him the most popular psychic in Britain. Derek Acorah told Ryan he first discovered his psychic abilities when as a child, he saw the ghost of his dead Grandfather. After a brief stint as a professional football player with Liverpool Derek decided to make a career out of his psychic powers. Derek also chatted about Sam, his Spirit Guide, his encounter with singing legend Frank Sinatra and his secret ghost busting mission on the Coronation Street set.
Extreme Psychic by Derek Acorah is out now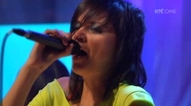 The Hedrons
The Hedron are an all girl rock group from Scotland who've been playing sell out gigs all over the UK. They're just about to head off on a tour of North America which will see them playing dates in New York and California as well as Canada. Performing Heatseeker from their current album "One More Won't Kill Us" The Hedrons proved they are Rock Chicks with attitude.