Saturday, 24 February 2007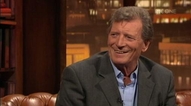 Johnny Briggs
Johnny Briggs is one of the most recognisable actors in Britain and Ireland, having played Mike Baldwin in Coronation Street for thirty years. During which time the character notched up "30 affairs, 25 girlfriends, 4 wives and 3 children". But his favourite storyline was the Mike, Ken, Deirdre, love triangle. The interest in this storyline was so huge that an episode was screened at Old Trafford, during a Man United match.
Stephen Roche
It's twenty years since Stephen Roche pedalled his way around France and became the first Irish person to win the most prestigious and gruelling bicycle race in the world - the Tour de France. Stephen told Ryan how he consequently became instrumental in getting the Tour to start in Ireland, calling over to Charles Haughey to "shoot the breeze", and his latest business venture - a cycle school in Spain.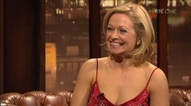 Cathy Kelly
Cathy Kelly began her career as a newspaper reporter, working as a film reviewer and agony aunt before writing her first novel Woman to Woman.
Since then, her romantic novels about the trials and tribulations of the modern Irish woman have been a huge hit all over the world. Cathy chatted about 'chick lit', intellectual snobbery, the joys of making things up, and told Ryan how computer spam can be a valuable source of inspiration.
'She's the One' by Cathy Kelly is out now.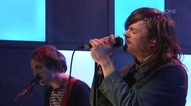 Idlewild
Since they formed in Edinburgh in 1995, Idlewild have toured with the likes of the Rolling Stones, REM and U2 and have had numerous top twenty hits and a top ten album. Their new album, "Make Another World" is out next Friday. Idlewild performed "No Emotion", a brilliant set of melancholic lyrics played to catchy pop tunes, reminiscent of the best of 80s British indie pop.