Saturday, 17 February 2007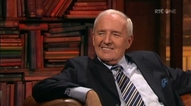 Bill O'Herlihy
Ireland's favourite broadcaster Bill O'Herlihy was shocked to receive the IFTA Award for T.V. personality of the year. In all his years of sports punditry, Bill cited Italia 90' as his favourite sporting memory. He celebrated Ireland's progress during the tournament by dancing around the studio with John Giles and Eamon Dunphy.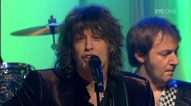 The Waterboys
The Waterboys are back. They performed their latest single "Everybody Takes a Tumble", from their new album "Book of Lightening". The band will be touring nationwide throughout March.
Fionnula Flanagan
Fionnula Flanagan talked about the fun she has playing spooky characters, like the nanny in THE OTHERS, in which she starred alongside Nicole Kidman. Having appeared in LOST this week, she talked about the excitement in Hawaii surrounding the programme's very secretive filming process.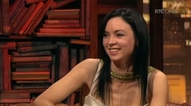 Monica Loughman
Successful ballerina Monica Loughman has returned from many years studying ballet at the Perm ballet school in Russia to open her own dance school in Ireland. Watch out for Ballet Spectacular 2007, which takes place in Cork in May.