Saturday, 3 February 2007
Claire King
A self-confessed bad girl! Claire King caused quite a stir with her recent autobiography in which she revealed several affairs with a number of famous men, including Bob Geldof and Vinnie Jones.
Claire also told Ryan how her grand-mother was from Kerry, chatted about her role as Superbitch Kim Tate in the soap Emmerdale, and revealed how she was approached by hit series Desperate Housewives producers and a move to the states may be on the cards!

"Confessions of A Bad Girl", by Claire King is out now
Pat Spillane, Eamon Dunphy and Ciaran Fitzgerald
As Croke park at last opens its gates to rugby and soccer, Pat Spillane, Eamon Dunphy and Ciaran Fitzgerald who know all about the Glory and the Grief, the triumph and defeat in the hallowed grounds of Croker told Ryan about the passion, emotion and significance of these games being played on such historic ground.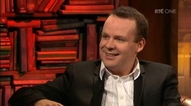 Neil Delamere
The funny man from Offaly has been described as "The Rising Star of Irish Comedy" and is currently one of the top headline acts working on the comedy circuit. Neil has performed all over Ireland as well as in the UK, Canada and Australia and his solo show was a huge hit at the Edinburgh Fringe Festival. He can also be seen quite regularly on "RTE Two's The Panel". He chatted about; growing up in a small town, his television debut, and joked about being half Viking, half Norman, and the triplet babes from Dundalk!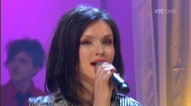 Sophie Ellis Bextor
Sophie Ellis Bextor began her music career in 1997 but it was only three years later when "Groovejet" entered the charts at number one, that people really sat up and took notice. In 2002 her single "Murder on the Dancefloor" became Europe's most played song. after a couple of years break during which Sophie got married and had a baby, she's back in the limelight. Sophie performed her new single "Catch You".