Saturday, 20 January 2007
Joshua Jackson
Teen idol and Hollywood heartthrob, Joshua Jackson started his acting career at the age of nine making commercials and playing small parts in TV programmes such as "McGuyver". His first taste of Hollywood came when he landed a part in a Disney movie called "The Mighty Ducks". He then shot to worldwide stardom as Pacey in the teen drama "Dawson's Creek" where he starred alongside Tom Cruise's wife Katie Holmes. To the suggestion that he "has a massive Irish connection", Joshua joked "I would never describe my mother like that, but yes, my mother is Irish". And went on to explain how his mum is from Ballyfermot in Dublin. The level-headed and laid back star also chatted about politics, meeting Bill Clinton, stardom and his latest role in "Bobby", based on events surrounding the assassination of Robert Kennedy. "Bobby" will be on general release on Friday 26 January.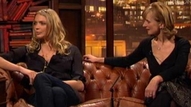 Jodie Kidd and Adi Roche
A somewhat unusual double act; Jodie Kidd and Adi Roche recently joined forces to raise money for the children of Chernobyl, with a fashion show in Cork this week. Adi has been Cork woman of the year, Irish woman of the year and European woman of the year, and she even made an Oscar winning film. She recalled how she ended up party hopping from the Vanity Fair Party to the Elton John Party and other star-studded events on Oscar night. Despite all the greatness of the Oscar and the fun of its parties, Adi said "the winning of the Oscar would have meant nothing if it hadn't translated into great support for the children of Chernobyl". On high profile parties, Jodie told Ryan how she likes to "dip in and then away" back to her farm and beloved horses. The supermodel told Ryan how she is a bit of a tomboy and "likes hardcore adrenaline sport" and has her international racing licence. "I just love going fast" she said.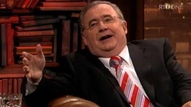 Pat Rabbitte
Labour Party leader Pat Rabbitte told Ryan about being a Mayo man; and how in "many ways (growing up in the countryside) was an idyllic life". Pat chatted about his farming background, his primary school with just two teachers and his main passion for GAA. He told Ryan how the death of his mother, when he was only 16, was "the most traumatic experience in my life, and probably in many ways changed the direction of my life; I struck out angrily against the world after that experience." After a stint in the States, Pat returned home to Ireland and joined the Labour Party. Finally, Ryan put to him the question that was on everybody's lips: "are you prepared to lead Labour into a coalition Government with the Fianna Fáil?" - giving Pat the choice of two answers: "Yes or No". "The honest answer to that Ryan is that it certainly is one or the other" he joked.