Saturday, 11 November 2006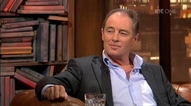 Brian Kerr
When Brian Kerr was appointed manager of the Irish soccer team he was welcomed with open arms. But his popularity didn't last and two years later the FAI failed to renew his contract. Stepping out to roaring applause from the studio audience Brian joked "I still have some fans, do I?" Brian chatted about what he has been up to since he left the limelight. He gets up to "the usual, going to lots of matches" but a lot of his time is dedicated to SARI (Soccer Against Racism in Ireland), a cause that is close to his heart he said. Brian also discussed the various jobs he's been offered so far; the infamous 5-2 recent Ireland result; Steve Staunton's performances and his hopes for the future.
Colm Wilkinson
Dublin born singer Colm Wilkinson possesses one of the most distinctive and powerful voices in Irish music. As a teenager, he swapped a job in his father's roofing business to go on the road with the show bands. He made his mark in musical theatre playing the part of 'Jesus Christ Superstar' but is probably best known as Jean Valjean in 'Les Miserables'. His career could have taken a very different route had he won the Eurovision song contest when he represented Ireland in Paris in 1978. Colm told Ryan how he tried to sell his Eurovision song to Frank Sinatra, and how, when he first broke into the music industry his burning ambition was "to stay in work and support [his] family". Colm also chatted about Toronto where he has been living for the past 17 years. He said although he enjoys Canada, he loves coming home to Ireland, and the distinctive Irish sense of humour is what he misses most.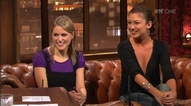 Amy Huberman and Leigh Arnold
Stars of one of the most glamorous medical dramas on TV at the moment, the ladies from Clarence Street Clinic joined Ryan for chat.
Amy Huberman plays a bubbly receptionist and Leigh Arnold plays a dedicated doctor . and together with a very talented team they make life at the surgery sparkle.
Leigh told Ryan how she always enjoyed the thrill of acting and recalled dressing up and putting on little plays in her parent's living room and charging the neighbours a 50p admission fee. Amy by contrast explained how she fell into acting. She was in the middle of finishing a college essay when she was offered her first T.V. role. She said "it was strange and difficult, but I loved it". She also told a funny story about a scene where her character had to ride a motorbike. Having been unable to perfect the art of moped riding Amy had to get two wooden stabilisers. The girls also chatted about their characters in the Clinic, upcoming story lines, and their new ventures.
The Clinic goes out on RTÉ One every Sunday night at 9.25pm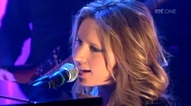 Lucie Silvas
Lucie Silvas is a singer/songwriter. As a songwriter her most recent hit was the Will Young song 'Who Am I', but she's also written for Gareth Gates, Rachel Stevens and Liberty X. As a performer in her own right, with songs like 'Breathe In' and 'What You're Made Of', she's had several UK Top Ten hits and Number One singles right across Europe. As befits someone who was born in New Zealand, she also has a keen interest in rugby. Her own particular focus is on her boyfriend, an Irish international rugby player called Geordan Murphy.
She performed her new single 'Last Year', which is out now.