Saturday, 4 November 2006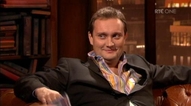 Mario Rosenstock
From politicians to TV personalities, sporting heroes to showbiz stars - Mario Rosenstock, impressionist extraordinaire does them all!
With hilarious tales of Hector's imaginary projects to a flavour of what's going on in Irish soccer, the voice behind 'Gift Grub' on Today FM slipped from one voice to the other, including the inimitable Roy Keane and a classic Daniel O'Donnell number dedicated to all the Mammies in the audience. His Steve Staunton and Sir Bobby Robson impersonations brought the house down.

Gift Grub Volume 7 is out now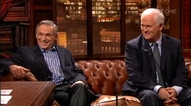 John and Richard Bruton
The best-known double acts in Irish politics grew up on the family farm in County Meath but neither of them had any interest nor any ability for the farming business.
"I was not very good at reversing a tractor" John confessed and talked about becoming the youngest elected TD of his generation. He recalled lying in a hospital bed the night of his election and being interviewed by Brian Farrell in his paisley pyjamas!
John also chatted about his time as a Taoiseach, and said "it was quite an easy job (.) the flow of events carried you over" he continued, and "it is tougher being a minister". Being a minister is, however Richard's current burning ambition; "to have the chance to make a difference" he said. Quizzed on what niggles them about each other, John joked Richard is "a bit of a morning grouch", and Richard said "well his laugh of course. he laughs on the intake".
Des Bishop
Now one of the most successful stand-up comedians on the Irish circuit, Des Bishop is a native New Yorker who came to Ireland at the age of 14. He joked "when I first came to Ireland and people breathed on me ,I realised there is something different about this place: they have a cheese and onion obsession here!".
He also told Ryan how after performing recent gigs in front of Irish audiences living in New York he realised they are "earning American Dollars, but living the Irish dream!". He found "they are slightly bitter about things that America doesn't do as well as Ireland!", namely butter, bread or crisps!
Des also chatted about his new TV project, where he'll be hanging out with various immigrant groups in Ireland and finding out what's funny about their experience of this country.

'Fitting In' a DVD by Des Bishop is out now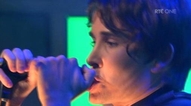 Royseven
The rock band's first album was released to rave reviews, with critics describing it as 'absolutely brilliant' and 'one of the most accomplished Irish debut albums ever'. They've just completed a series of nationwide dates and signings to promote the album, which is called 'The Art Of Insincerity'. They'll be playing in the Budrising Festival at the Village in Dublin on Saturday 11th November, and also with Damian Dempsey at Vicar Street on 11th December. They performed the track 'Happy Ever Afters'.