Saturday, 14 October 2006
Twiggy
Discovered at the age of sixteen with a face and figure that made her famous the world over, Twiggy told Ryan about the hair cut that changed her life for ever and made her an icon of the Swinging Sixties.
Turning modelling into super modelling, Twiggy celebrates 40 years in the business this year.
She told Ryan she was "a bit shy", so much so that she turned Steve McQueen down when he asked her to dance at a party thrown in her honour by Sonny and Cher.
Twiggy also talked about plastic surgery and how terrified she is of any operation, and joked she prefers wrinkles to Botox, but added at the end of the day it is a "personal decision".
She recalled her first encounter with now best friend Paul McCartney and chatted about her passion for fashion, designing and sewing machines!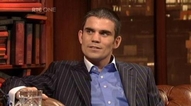 Bernard Dunne
Young, gifted and Irish, Bernard Dunne is currently causing quite a stir in World Boxing. With twenty one professional wins under his belt, Bernard told Ryan how boxing ran in his family. He started going to the gym to train aged 5, and began fighting in the ring at the age of 7. "I think the old man put a pair of gloves on me when I was born" he joked. He recalled how he used to used to run in the morning, "go back, have a bit of breakfast, grab the school bag and go".
The hard work paid off when he was noticed and signed up by his childhood hero, the legendary Sugar Ray Leonard. Bernard also chatted about his time in LA, turning down a part in an American reality TV show, his wife Pamela and the enormous buzz he gets out of playing on home ground. The fight of his life is coming up in a couple of weeks, when he fights England's Esham Pickering for the title of European champion, at the Point Depot, Dublin.
Tickets for the fight on November 11th at The Point are available from Ticketmaster.
The fight will also be broadcast live on RTÉ Two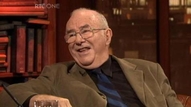 Clive James
He made his mark in Fleet Street as a TV critic for the Observer newspaper, establishing himself as one of the most influential commentators of his generation. He then went from writing about television to being on television.
Clive chatted to Ryan about his time in Fleet Street and the great camaraderie in the pub after work. He laughed about his addictive personality and joked "some people can get through a life time supply of anything in two weeks. and I am one of those". He explained how he eventually kicked an 80 cigarettes a day habit, thanks to his very own personal method he calls "smoking the memory".
Clive has documented his early career, including the fashion faux pas and brushes with the rich and famous in his latest volume of "Memoirs, North Face of Soho".
"Memoirs, North Face of Soho" by Clive James is out now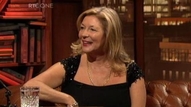 Carol Drinkwater
She sent hearts racing when she played the sexy young wife of a country vet in the TV series "All Creatures Great and Small", but fifteen years ago Carol fell in love over dinner with a man who was to help change the course of her life forever.
Carol told Ryan how she met her husband Michel, and how he proposed to her on their first date. She explained how she subsequently moved to the South of France, and settled in an idyllic house surrounded by 400 year old Olive trees. Her passion for the olive tree and for travel led her on a quest that gave birth to her latest book. Searching for the olive tree's ancient secrets, Carol set out from her Provencal farm to distant Mediterranean shores to explore the Olive Route.
Carol also discussed her Irish connections, her plans of moving to county Clare in Ireland and recalled how she got a part in the cult Stanley Kubrick film a "Clockwork Orange" the day after she finished drama school!
"The Olive Route, A Personal Journey to the Heart of the Mediterranean" by Carol Drinkwater is out now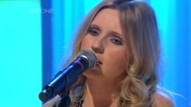 Luan Parle
Hailing from Wicklow, Luan Parle signed her first record deal at the age of twelve. She has toured twice with James Blunt and partied in the company of Elton John who described her voice as "one of the most beautiful" he'd ever heard. Her debut album "Free" is out next week and she'll being touring nationwide during the month of November.
Last Saturday she popped over to Tubridy Tonight to perform her new single "Corporate Culture".