Saturday, 7 October 2006
Jack Osbourne
As the son of an international rock star, Jack Osbourne had fame and fortune handed to him on a plate. His family have been described as crazy, dysfunctional, hilarious and shocking but the reality TV programme about their lives had millions of people across the world, including Brad Pitt, hooked.
Jack chatted about his school days and how he constantly "felt like the odd one out", explained how the show that was to make him an international celebrity came about and how by the age of sixteen he was surviving on a regular cocktail of alcohol and prescription drugs.
Recently however he realised he was on a "ticking time bomb" and decided to clean up. From well down the path of self-destruction to a sober and fit young man, Jack is now finding his adrenaline rushes in adventure sports.

'Jack Osbourne, 21 years gone, The Autobiography', published by Macmillan is out now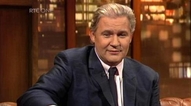 Johnny Logan
Johnny is one of Eurovision's biggest success stories winning the contest three times, with the songs 'What's Another Year', 'Hold Me Now' and 'Why Me?'
Fans call him Mr. Eurovision but we like to call him J. Lo.
Back with a new single and a new look, Johnny told Ryan how he met Kay, a Ghana-born Belgium Rap artist who remixed 'Don't Cry' with sleek rap tunes. With its catchy loops, the single is currently making waves on the internet and reaching a new generation of fans.
Johnny remembered his Eurovision days and confessed his dislike for today's song contest. Asked about a magic recipe that would make Ireland a winning entry again, Johnny quickly said "you need to ask me to do it again!" Johnny then took to the stage and performed 'Hold me now'.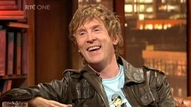 Hector
He has stripped with the Chippendales in Las Vegas, drank frog milkshakes in Peru and sung Sean Nos in the Amazon jungle.
His adventures were witnessed by many on the TG4 travel series Amu. But some of his escapades never made it to the screen so he's just completed a 'Redheaded Guide to the Galaxy' which is a collection of "mad trip sand weird stories."
He told Ryan how the Amazon "blew [him] away", how Nashville, with its, its Stetsons, guitars and folk music is among his top ten places in the world, how Helsinki is "nothing more than blond haired drinking Vodka" and how "Naaavan is the centre of the known universe". "We have the Shopping Centre, Tommy Tiernan and Pierce" he joked.

The motor mouth from Meath concluded "I was a messer in school, and I am now a professional messer".

'Hector's World' by Hector Ó hEochagáin is out now (published by Penguin England)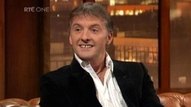 John Connolly
John Connolly spends most of his time in a room at the top of his house, making things up and getting paid for it. He told Ryan about his routine of "writing in the morning and "going to the gym and coffee shops in the afternoon".
The former Irish Times journalist received seventy rejection slips from publishers before becoming a best-selling novelist.
Although he writes about murder, mystery and the forces of evil, he still can't manage to shake the title as the nicest guy in crime fiction.
On his latest book The Book Of Lost Things he said it is "a book about childhood for adults".

The Book of Lost Things, by John Connolly is out now (published by Hodder & Stoughton)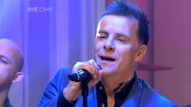 Deacon Blue
Hailing from Scotland and known as one of the best live acts in the UK, Deacon Blue toured extensively over the years. Recently the band returned to the studio to record some new tracks for their forthcoming 'Singles' collection which will hit the shops soon. You can catch them live in the Tripod in Dublin on Sunday 19th November.

Deacon Blue performed the much loved hit 'Real Gone Kid'.