Saturday, 30 September 2006
David Hasselhoff
From Knight Rider to Baywatch David Hasselhoff, or The Hoff, as he is known to his legions of adoring fans, is the most watched TV Star on the planet.
The Hoff is best known for his roles as Mitch Buchanin in Baywatch and Michael Knight in Knight Ryder. The theme of good conquering evil is at the premise of both shows, as the Hoff said: "Knight Rider and Baywatch succeeded because they were about saving lives, not taking lives."
He also revealed that Pamela Anderson was destined for stardom from the moment she arrived on the Baywatch set to audition: "she had more charisma than anybody I had ever met". Baywatch also has a celeb following. David spoke about jogging with Bill Clinton and discovering he was a fan of Baywatch.
David is currently staring in the movie Click, has just published his autobiography and still found the time make a stab at the UK charts with his latest single "Jump In My Car."
It is ironic that a name that was the butt of so many schoolyard jokes helped create the legend that is THE HOFF.
The highlight of his appearance was an impromptu performance of 'Unchain my heart' to which the audience responded with a standing ovation!

"Making Waves", David Hasselhoff's autobiography is out now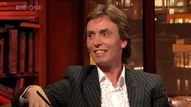 Ken Doherty
He's currently number one in the world at his game, and this season snooker player Ken Doherty is determined to stay on top. Ken has had a passion for snooker since childhood receiving a "little snooker table" from Santa when he was just eight. He learned to play his trade at Jason's, his local snooker hall in Ranelagh.
His childhood endeavours paid off and one of the most memorable moments of his career was in 1997 when 250,000 people lined the streets of Dublin to cheer his open top bus when he returned home as World Snooker Champion.
On the game itself Ken confessed it "can be very frustrating" at times. He joked "in rugby or soccer you can make a tackle, but in snooker [all you can do is] sit there and drink a glass of water". But "I do something that I love" he added.
The world number One also chatted about his wife Sarah, his mum who can't bear to watch him play and what surprised most viewers was his love for Caravaggio paintings and their history. As for retirement. Ken concluded he'll keep going as long as he enjoys it.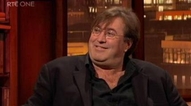 Gerry Stembridge
Limerick man Gerry Stembridge worked as a secondary school teacher for fives years before deciding to give it all up to pursue his dream of working as a writer and director. To date he's made films such as Guiltrip and About Adam as well as writing the script for Ordinary Decent Criminal.
As a television producer he gave us Nitehawks and along with the late Dermot Morgan he was the driving force behind the radio series Scrap Saturday.
His first novel "According to Luke", described as a "tale of money, morality and modern Ireland" reflects on the last 20 years, and the effect of affluence has had on Irish society.
Gerry told Ryan although he enjoyed the way prosperity was going, "it suddenly seemed to be taking a nastier and uglier tone".
Despite the flourishing appearances, "I think the country is in a state of depression" he added.
Given the week that was, Gerry passed an envelope labelled "Dig out for Bertie" around the audience. When Ryan emptied out the content at the end of the show, the collection amounted to little more than a few coppers, sweetie wrappers and even one dirty sock!

"According to Luke" is out on October 12th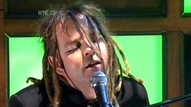 Duke Special
With innovative song writing, quirky melodies, and a very personal style, Belfast born Peter Wilson, aka Duke Special is creating quite a stir on the Irish and international music scene.
In the past he has supported the likes of Rufus Wainwright, Van Morrison and The Beautiful South. Before he heads out across Ireland, Britain and the rest of Europe supporting The Divine Comedy next month, Duke Special appeared on Tubridy Tonight to perform his new single "Last Night I Nearly Died".

"Songs from the Deepest Forest", Duke Special's second album is out now