Saturday, 23 September 2006
Sophie Anderton
Sophie Anderton is no stranger to the Limelight.
She's been on the cover of glossy magazines since the age of 15, and stormed to public attention when she fronted a scorching billboard bra campaign reported to have caused a number of road accidents...
However the glamorous world of fashion took its toll. Sophie has fought and won battles with addiction over the past few years. Most recently, she emerged as the star of Love Island, a reality TV show about love and lust on a desert island. She fell head over heels for Boyzone's Shane Lynch and Sophie described Shane as her "life-jacket in there". She admitted to being a little bit embarrassed about some of her outbursts on Love Island but despite this Sophie told Ryan she came out of the reality show "liberated" and is "really looking forward" to turning thirty soon.
Ruth Gilligan
For most students Transition Year is pretty much a year to kick back and take it easy before the pressure of the Leaving Certificate looms. For Ruth Gilligan, it was the year she put pen to paper and wrote a best-selling novel.
Ruth told Ryan her bestselling novel Forget started life as a fifty-page story as a Transition Year school project. She said "I went out and bought a 'how to write a novel' type-book". and got stared. Since then, Ruth has become the youngest-ever Irish author to top the mainstream fiction list. If that wasn't enough, Ruth recently "scored" eight A1s in her leaving Cert, enjoyed a TV acting career as the character of Laura in 'Fair City', plays the piano and caps her hockey team.With such a CV, it is no wonder the bright young thing is heading to one of the most prestigious colleges in the world. While studying at Cambridge University Ruth will be working on her second novel; and the secret of her success she told Ryan is a no brain-ner: "Go for it! Life is too short!"
"Forget", a novel by Ruth Gilligan is out now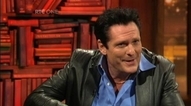 Michael Madsen & Mark Mahon
He's played a string of villains in iconic movies - most notably Mr Blond in Reservoir Dogs, but Michael Madsen was looking for something different! He told Ryan. "I wanted to be the guy who rides off under the sunset with the girl" he joked.. Then came Mark Mahon, an award winning Cork born film maker, who gave Michael the leading role in his latest film Strength and Honour.
Michael joins a line up which includes Vinnie Jones, Richard Chamberlain and Steve Collins; and praised Mahon's directing style: "in a lot of ways reminds me of Quentin Tarantino".
The pair are currently filming, in and around Cork, and are hoping to take Strength and Honour to the Cannes Film Festival next year.
For more info on Michael Madsen check out www.michaelmadsen.com
And for his latest cinematic venture check out www.strengthandhonorthemovie.com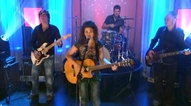 Katie Melua
With hits like 'The Closest Thing To Crazy' and 'Nine Million Bicycles', the Georgian-born stunner has been the biggest selling female artist in the UK for the past three years. Katie Melua popped over to Tubridy Tonight to perform the latest single, 'It's Only Pain', taken from her current album 'Piece By Piece'.