Saturday, 13 May 2006
An Taoiseach Bertie Ahern
When he was first elected Taoiseach in 1997 Bertie Ahern became the youngest person to lead the government in the history of the state. He told Ryan how he inherited his interest in politics from his parents "Dad was a staunch Republican" he added.
The Taoiseach also recalled his school days, sticking up posters, having the run of the farm at All Hallows in Drumcondra and studying accountancy. On his daughters, Georgina and Cecilia he told Ryan "I talk to the girls on the phone practically everyday". The Taoiseach joked about that famous "yellow suit", the infamous anorak and going to Westlife gigs. To unwind after a long day's work, the Taoiseach told Ryan he loves cooking and watching sports.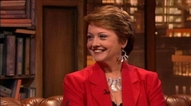 Anne Diamond
Anne Diamond is a broadcaster and journalist who made her name on breakfast television in Britain over twenty years ago. Since then, the ups and downs of her personal and professional life have meant that she's rarely been out of the headlines. Most recently, she became embroiled in controversy on the reality show 'Celebrity Fit Club', a TV programme which featured a group of celebrities competing to lose weight. She told Ryan by taking part in the programme she wanted to show she was "game for laugh" and eager to learn to "make healthy choices". but unfortunately it turned into something which she described as "very nasty".

Anne also chatted about her children, being a mum, and her current projects.

For more information on Anne Diamond and weight loss programmes, check out www.fathappens.com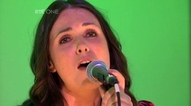 Sandi Thom
Originally from Scotland, singer-song writer Sandi Thom spent years busking around the UK and continental Europe, but four months ago she found that she was too broke to go touring. She had a moment of inspiration that led to her staging a three-week ''world tour' - all from the basement of her tiny London flat. That resulted in her signing a million-pound record deal. Her debut single 'I Wish I Was A Punk Rocker' is on release now.