Saturday, 6 May 2006
Tommy Tiernan
Possibly the most popular and the most controversial comedian in Ireland, Tommy Tiernan has recently decided to take on a new challenge: make America laugh. He explained how after extensive sold out Irish tours he felt he had "come to the end of a cycle in Ireland.

Tommy discussed his experiences in various American states and confessed his nervousness performing to small gatherings in New York. He also talked about the changes he had to make to his material to suit American audiences. but added that he mostly focuses on "having the craic". On visiting a comedy coach in America Tommy told Ryan how after taking a look at his work, the coach recommended that he shouldn't curse so much . "I told him to f*** off!" Tommy laughed.

'Jokerman', a documentary series following Tommy Tiernan's journey to the USA goes out on RTÉ Two on Mondays at 9.30pm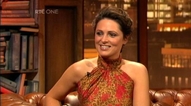 Grainne Seoige
After a busy couple of days answering journalists calls and being followed by hordes of photographers, Galway newscaster Grainne Seoige visited Tubridy Tonight to give the low-down on the latest developments in her career.

She told Ryan how she will be leaving Sky News in "the next couple of weeks" to start working on a show which she will be presenting on RTÉ in the autumn. She said it will not be "news or politics" or anything we have seen her do before. "I like a lot of things" she said, and her new programme will reflect her wide range of interests. She discussed her time with Sky and said "things worked out fabulously well in Sky News but I came to a crossroads and decided to try something else".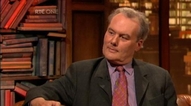 Kevin Myers
Probably best known for his sometimes controversial 'Irishman's Diary' column in 'The Irish Times', Kevin Myers has variously been described as a 'chauvinist' and 'a prig', as well as 'a brilliant beacon of incorrectness and intellectual independence'.
Kevin discussed the furious row that erupted from his infamous "Bastard" article which he wrote just over a year ago. The article triggered a storm of public condemnation, angry reaction, apologies, and even death threats. The journalist and broadcaster told Ryan how he waited for two hours for the Gardai to arrive after he received a phone call threatening him with the words: "bang bang you are a dead man". On leaving The Irish Times, Kevin said he was sad to leave the broadsheet to which his name was associated for more than two decades but explained he was not in a position to give any reasons for his departure.

On moving to The Irish Independent, Kevin said "I am interested and fascinated by the challenge. This is something new and I am looking forward to it".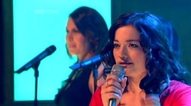 Laura Michelle Kelly
Laura Michelle Kelly has been starring in West End musicals since the age of seventeen. After a number of leading roles in a host of hit shows, including 'Mary Poppins', 'Les Miserables', 'Peter Pan', 'Fiddler On The Roof' - in which she made her Broadway debut, and 'My Fair Lady', Laura Michelle Kelly embarked on a recording career. Taken from her first album 'The Storm Inside' (currently on release), the 24 year-old artist performed 'There Was A Time'.