Saturday, 22 April 2006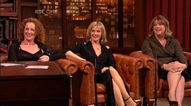 Isobel Mahon, Lise-Ann McLoughlin and Brianna Corrigan
"Mum's The Word" has been a sell out hit across America, Australia, Canada and Britain. It's a play that celebrates the delights and downfalls of being a mum, with lines such as "every day I start out Mary Poppins but I end up Cruella de Vil". One of the rules of the play is that only actresses who are themselves mothers can take part. Isobel Mahon, former Fair City actress Lise-Ann McLoughlin and Brianna Corrigan, former singer with The Beautiful South are currently on tour with the play. On the Tubridy Tonight couch the ladies chatted about motherhood: the pressure, the competition, the guilt, the prams, the loss of 'me time'. but also the delights of the whole experience.
"Mum is the Word"

Tuesday, April 25th to Saturday, May 6th - Pavilion Theatre, Dun Laoghaire, Dublin.
Monday, May 8th to Saturday, May 13th - Theatre Royal, Waterford.
Monday, May 15th to Saturday May 20th - Derry Millennium Forum.
Monday, May 22nd to Saturday May 27th - Cork Opera House.
Anthony Worrall Thompson
At the forefront of the celebrity chef phenomenon, Anthony Worrall Thompson is famed for his controversial comments on children's diets. He told Ryan "if kids are told to eat their veg, they will eat them. If they are allowed not to eat them, they won't", and added, "I don't want to be a dictator, but I would go back to compulsory school meals, no choice". Having said that he went on to chat about his infamous creation, the calorific 'Snickers Pie', and said compared to certain fast food meals "it is not that bad".
Anthony also talked about how he ran a marathon for charity and how he celebrated crossing the finish line with "a chip butty, a glass of champagne and a cigarette". He confessed to doing "things differently" such as taking up smoking at the age of 41.

"GL Diet Made Simple" and "Barbecues and Grilling" by Anthony Worrall Thompson are out now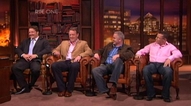 Shane Byrne, Mick Galwey, Brent Pope, Paul Howard
Four rugby experts joined Ryan to discuss the Heineken European semi final clash between Munster and Leinster. As the most-capped Leinster player of all time, Shane Byrne told Ryan "there's never been a rugby game like this in Ireland".
On rugby fashion Paul Howard - creator of the rugger monster that is Ross O'Carroll- Kelly - said "the typical Munster fan dresses like a typical rugby fan, whereas the typical Leinster fan dresses like he is on his way to a night club". Rugby pundit Brent Pope told Ryan that in his opinion, although Munster deserves to win, he tipped Leinster to walk away with the place in the final.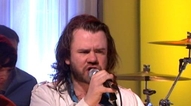 Republic Of Loose
Since they first appeared on the Irish pop scene a couple of years ago, Republic of Loose have been going from strength to strength, enjoying public and critical acclaim alike. In the past, they've picked up a Meteor Music Award and had big hit singles like 'Comeback Girl' and 'You Know It'. They'll be performing on the bill with Ian Brown at Dublin Castle next weekend and they'll be on tour nationwide throughout May. The boys performed 'Shame', their new single.

'Aagh', Republic of Loose new album is out now