Saturday, 15 April 2006
Ardal O'Hanlon
Ardal O'Hanlon (unlike his alter ego Father Dougal) is a dedicated soccer fan. He has managed to combine his love for both soccer and travel in a new series for RTE Two called "Leagues Apart"; a series which looks at great rivalries amongst European soccer clubs. But Ardal says you don't have to be a soccer fan to enjoy the programmes. it is as much about culture and history as it is about football.
Ardal who also recently turned 40 joked "there is nothing I could do about it! When I hit 40 I was able to let myself go for a change and speak my mind." He feels that "time is running out" . and that doesn't leave much space for nonsense anymore... "I felt kind of liberated - you're not so worried about impressing people anymore" . But then again . "you end up rowing with everybody"
Leagues Apart presented by Ardal O'Hanlon goes out on RTÉ Two on Thursdays at 10.30pm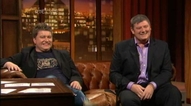 John Creedon and Pat Shortt
An unlikely pair John and Pat have been friends for nearly 20 years but have only recently teamed up to create a series of radio sketches, all set in a curious place: 'Baile Amadain Amhain'. John and Pat told Ryan how they came up with the idea for the radio series, apparently it all started on a drunken night in Cork when they then pulled out a tape machine. "All the best ideas come from the back of a beer mat" said John.
Pat also talked to Ryan about the five characters he plays in "Killinaskully" and John told Ryan how is still gets nostalgic about Dublin, but "Cork is home".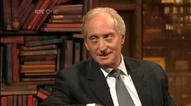 Charles Dance
An accomplished stage and screen actor, Charles Dance told Ryan how he missed his opportunity to be James Bond but how he still ended up with a walk on part in "For your Eyes Only". He was the "third villain from the left". Charles also talked about his character "Soames" in Michael Collins: a nasty British intelligent officer. "bad guys are more fun to play".
Approaching his 60th birthday Charles told Ryan how he doesn't feel 60. "Physically, bruises take a bit longer to go away but otherwise I feel as irresponsible as I did when I was 25" he added.

Charles Dance will be in Ireland for most of April, performing readings of Samuel Beckett's prose and poetry.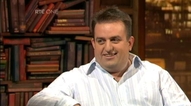 Karl Spain
Comedian Karl Spain is probably best known for his very public search for love on national television. He told Ryan how he went through the mill that is modern dating on his TV show - "Karl Spain wants a woman" but it was worth it in the end because eventually he met Rachel... mission accomplished!
On growing up in Limerick, Karl joked that it was an Angela's Ashes' childhood "we were terribly poor. as a family of five kids, we only had six bedrooms in the house. We were so poor my parents had to share a room".
Karl also talked about the six years he spent working in the fast food industry before becoming a full time comedian.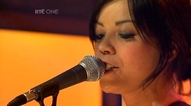 Emm Gryner
With melodic and catchy pop tunes, Emm Gryner has notched up a huge chart hit and picked up several awards in her native Canada. Emm has also been a musician in David Bowie's band and is now at the forefront of the do-it-yourself revolution that's taking over the music industry. In an album of Irish cover songs, she featured the work of bands like Thin Lizzy, Therapy, The Corrs and The Thrills. Her new album is called 'The Summer Of High Hopes' and she performed her latest single 'Symphonic' on "Tubridy Tonight".