Saturday, 1 April 2006
David Soul
An occasional visitor to Ireland, David Soul told Ryan how he used to love hanging out in Temple Bar in the 1980's and how coming to Ireland always feels like "a bit of home". He talked about his role as Jerry Springer in the controversial musical "Jerry Springer - The Opera" and chatted about his TV role as Hutch in the cop series 'Starsky and Hutch' that made him an international icon of a generation. Speaking about Paul Glaser (who played his onscreen partner Starsky) David said "to this day I still call him my best friend". Before he left Ryan persuaded him to belt out a verse and a chorus of his smash hit 'Silver Lady'.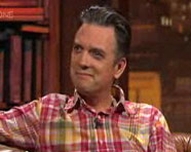 Joe Rooney
Stand-up comedian Joe Rooney is probably best known for his acting roles on two comedy hits, and said "it is great to be part of comedy history". Speaking of "Father Ted" Joe recalled his part as Father Damo, the unconventional curate who led Father Dougal astray and told Ryan about driving a runaway tractor during the filming of 'Killinaskully'.
He confessed "I was a bit of a freak growing up!" and chatted about his "hairless" adolescence. He also joked about the new café culture that has taken the midlands by storm and old ladies' funny sense of hair fashion.

Joe Rooney is currently on a nationwide tour. Check local press for details.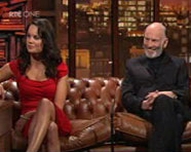 Rachel and John Kavanagh
John Kavanagh is one of Ireland's best known actors, a veteran of the stage whose film credits include 'Ballroom Of Romance', 'Braveheart', 'Circle Of Friends' and 'The Butcher Boys'. Rachel Kavanagh is a full-time student of Business and Politics at Trinity College, but still manages to find time to play the role of Lauren in 'Fair City'. Not all that surprising, considering that the girl started out on stage at the age of three. Father and daughter chatted to Ryan about their acting careers, family life and John's time in North Africa filming Oliver Stone's "Alexander" .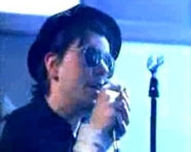 The Charlatans
In many ways the driving force behind much of the "Madchester" dance scene in the early 1990's, The Charlatans had three number One albums in the UK, and their hits include 'The Only One I Know', 'North Country Boy', and 'One To Another'. The band will play the Oxygen Festival in Punchestown this summer, but in the meantime they dropped into the Tubridy Tonight studio to perform their single 'Blackened Blue Eyes'.