Saturday, 18 March 2006
Derval O'Rourke
Derval O'Rourke - The current golden girl of Irish athletics brought along the medal she recently won in Moscow to Tubridy Tonight last Saturday. She described how she qualified out of the heats in the women's world indoor sixty-metre hurdles. and explained how she ended up breaking her own record and beating some of the best athletes in the world.
The 24 year old Cork native told Ryan how proud she felt when the Irish flag flew over the stadium in Moscow. "because you don't see it very often". When she reached the finishing line she said "I didn't want to celebrate because I didn't want to be the Irish eejit that celebrated but didn't win!" Ryan also chatted to Derval's parents, boyfriend and coach; Jim Kilty who said Derval is a very determined young lady who has belief in herself and a strong will to work.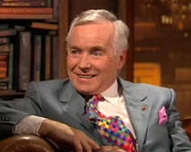 Feargal Quinn
Feargal Quinn told Ryan the reasons why he sold Superquinn and why in his opinion it was the right thing to do. He added "it is still a totally Irish company, still has the name over the door, and I believe it will go from success to success".
He has fond memories of growing up in North County Dublin and helping out on his father's holiday camp. On working in Superquinn, Feargal told Ryan how much he loved chatting to customers on the shop floor and revealed some of the secrets that made Superquinn such a success. Feargal also talked about how he celebrated Ireland's recent triple crown victory with his 96 year old mother in law, how he wore pink socks at his daughter's wedding and also why he reckons sustainable energy is the best investment.
Lesley Joseph
After leaving school Lesley Joseph embarked on a career as a jobbing actress. She was working in a low-paid play in a small theatre when a chance meeting with a comedy writer changed her life and she was offered the role of Dorien in a new BBC comedy. In it she played the vampish, man eating next door neighbour of Sharon and Tracey; two women living off their jailbird husbands' ill gotten gains. She told Ryan how at the height of its popularity "Birds of a Feather" was watched by over 20 million viewers. and explained why she thought the programme was such a hit.
Lesley also told Ryan how she was inspired to go into acting by her great grand-father who was a Rabbi from Russia and chatted about her mother who "at the age of 93 still line-dances twice a week!"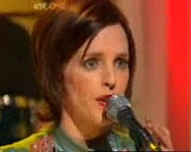 Julie Feeney
Fresh from winning the inaugural Choice Music Prize, Galway singer-songwriter Julie Feeney appeared on the show and performed her single 'Bring Me Down'.
Julie has been described as 'the most intriguing female voice to come out of Ireland since Sinead O'Connor', and her album 'Thirteen Songs' as being 'one of the greatest debut records ever made in this country'
'Thirteen Songs', Julie Feeney's debut album is out now