Saturday, 11 March 2006
Brenda Fricker
To most people Hollywood is "tinsel town" filled with glamorous and famous people but to Oscar winning actress Brenda Fricker, Hollywood is just simply a "one horse town", where "people are people". But then again Brenda Fricker is not most people. The Dublin born actress told Ryan she gets "slightly embarrassed" talking about the Oscar she won for her role as Christy Brown's mother in "My Left Foot" and how she keeps "losing it" in ladies toilets, the back of taxis and even in the bottom of a swimming pool in the West of Ireland.
Brenda also told Ryan about her up-coming collaboration with Sir Richard Attenborough ("who's 81!" she pointed out) and Shirley MacLaine before joining the Camembert Quartet for a quick go on the drums.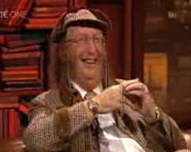 John McCririck
John McCririck is a man who describes himself as a "deeply unpleasant person" while others have accused him of "possessing all the charm of an armpit". He certainly has no fear of controversy. In fact, the eccentric pundit openly encouraged the Tubridy Tonight audience to boo him when he walked on stage. With his trademark passion he gave Ryan his opinion on religion, George Bush, war in the Middle East, and Capitalism.
He also found time to discuss Cheltenham and expressed his complete aversion to the use of the whip by jockeys, saying it is "unacceptable to beat animals in the name of sport". Commentating on his abundant jewellery he said "it is cheap bling. loud, shallow and insincere, just like I am!".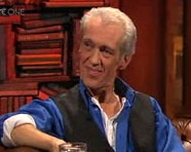 Ken Bruen
Hailing from Galway, Ken Bruen is a best selling crime writer whose own life experiences seem considerably stranger than fiction. He told Ryan how he ended up in a South Korean tattoo parlour when he lost a bet in a game of pool with a senior police officer, how he survived a car crash in India that left him in a coma, and discussed his traumatic time in a Rio de Janeiro jail.
He explained how he began to write in an attempt to heal his wounds after his time in Brazil. He's now the author of fifteen published novels, including an award winning series of stories set in Galway that feature the character Jack Taylor, an alcoholic ex-Garda turned private detective. The latest Jack Taylor book has just been published, a dark and mysterious tale of guilt and redemption in modern Ireland. The book is called "Priest".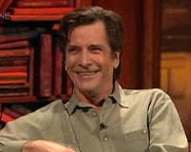 Dirk Benedict
Dirk Benedict is probably best known as "Faceman" the womanising conman in the legendary 1980s action American series the A-Team.
At 61 years of age the actor has the energy of a 16 year old and told Ryan that his only secret for looking so amazingly young is steering away from any type of junk food. Other than that he joked "I smoke cigars, drink whiskey, live under stress and don't get much sleep!"
Dirk also chatted about some of his colleagues in the A-Team and told Ryan he's been retired in his native Montana for the last twelve years, looking after his two boys.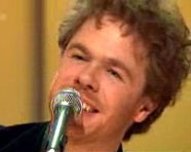 Josh Ritter
All the way from Moscow, Idaho, Josh Ritter brought his unique sound and style to Ireland a couple of years ago where he started off in small Irish venues supporting Dublin Band The Frames. Since then Josh has built up a large and loyal Irish fan base and now sells out his own gigs. He performed his current single "Lillian Egypt".
"The Animal Years", Josh Ritter's new album is out now