Saturday, 18 February 2006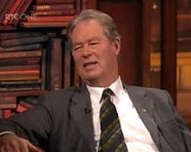 Micheál O'Muircheartaigh
The legendary voice of GAA commentary joined Ryan on the couch last Saturday. Micheál talked about growing up in Kerry, his 30 years as a teacher and the time he spent in Mountjoy prison... supervising prisoners taking exams that is. Along with his busy career Michéal has also raised 8 kids and this year celebrates his 57th year behind the microphone.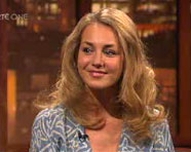 Lady Isabella Hervey
Isabella Hervey is the daughter of the 6th marquess of Bristol, Victor Hervey. Her father led a colourful life and was even jailed for his part in a jewellery heist. Isabella is a fitness fanatic and in 2004 won the Channel 4 show called "The Games". She chatted to Ryan about her love of sport and her several brushes with death.
Brendan Burke
Brendan started his career as a microbiologist. In the mid 1980s he ended up working in a hospital in Baghdad under Saddam Hussein's infamous regime. His first gig as a stand up comedian was during the interval in the "Rose of Baghdad" competition where nurses competed for the prestigious title. Back in Dublin Brendan has recently appeared as the business man Tiernan in Fair City and is currently preparing for his one man show "Locked" which will be in Vicar Street in Dublin on March 3rd.
Rodrigo Y Gabriella
Tubridy Tonight closed with music from a Mexican duo who have built up a huge and loyal fan base in Ireland.. Their recent gigs in the Olympia Theatre in Dublin were sold out. Their debut album called "Rodrigo Y Gabriella" was released on the 17th Feb. They performed "Tamacun" from the current album.