Saturday, 11 February 2006
Brian Cowen
Minister for Finance Brian Cowen joined Ryan on the couch last Saturday, recalling his school days in Roscrea he maintains that he 'wasn't bad on the hurling and rugby pitch'. Asked about his career highlights, the minister, who never lost an election, said there are many but added his first day in the cabinet at the age of 32 was certainly one. 'It was a great honour to be asked to serve' he said.

The minister also chatted about being a music lover, citing Paul Brady as a hero of his and talked about singing on a CD for charity. Known as a talented and keen mimic amongst his family and friends Brian Cowen joked 'no, I cherish my job too much' when Ryan asked him to 'do Bertie'.

As to being a possible contender to succeed Bertie Ahern as leader of Fianna Fáil, Minister Cowen said 'I am not the decider'.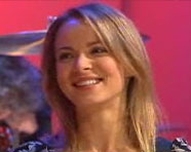 Gemma Hayes
Before kick-starting her nationwide tour, Ballyporeen born Gemma Hayes visited Tubridy Tonight and performed her new single 'Undercover'.

Recently awarded Best Irish Female Artist at the Meteor Awards, Gemma said she was thrilled to have won the gong, 'especially because it was voted by the public'.

Gemma also recalled doing an Irish Jig for Ronald Reagan in 1984 and told Ryan how she recently settled in sunny LA because she needed a change of scenery.

Gemma Hayes' new album is out now.
Check local press for nationwide concert details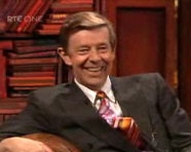 Henry Kelly
Host of some classic eighties TV British game shows Henry Kelly stared his media career in Dublin as a serious Irish Times journalist.

The former 'Game for A Laugh' presenter told Ryan how he joined the Irish broadsheet in the late sixties, how he was shot at while covering the outbreak of the Troubles in Northern Ireland, and how he became a star of Saturday night entertainment. Asked why he did it, he said 'to be honest I did it because I was asked. and I thought I'll give it a go'. He added 'I enjoyed every minute of it'.