Saturday, 4 February 2006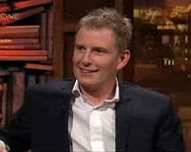 Patrick Kielty
Straight from presenting the Meteor Awards in The Point earlier in the week, Patrick Kielty popped into Tubridy Tonight last Saturday.
Patrick recalled how he 'nearly died' in a helicopter with Neil Armstrong, and how after celebrating a win on horses with a couple of friends he ended up at the pope's funeral.
The comedian and TV presenter also chatted about his first encounter with fame at the age of 16 when he won an All-Ireland minor football medal with his native County Down. Years later Patrick returned to Croke Park as presenter for the opening of the Special Olympics which he described as 'the highlight of my career ... the highlight of anything I've done'.

Patrick Kielty's stand-up show 'No woman no cry' is in Vicar Street Dublin on February 17th & 18th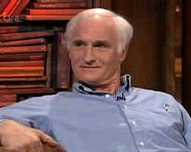 Duncan Stewart
Duncan Stewart is probably Ireland's best known environmentalist. Duncan's love for the environment stemmed from his mother who he described to Ryan as a bit of "a hippy". A hugely artistic woman, she started off on the Abbey stage before ending up in a Hollywood movie. After her Hollywood experience she entered a nunnery in Cavan and eventually opted for family life. Duncan fondly recalled his childhood spent with his siblings and parents in a farm-like house in North Dublin.
Speaking of his state of health after his accident while filming a TV documentary near Chernobyl, Duncan said 'I am not one hundred per cent yet, but you have to get on with it, that's life and I am very lucky'.

He added 'when you go over there... you suddenly realise how lucky we are in Ireland."

Eco Eye, presented by Duncan Stewart every Wednesday at 7.30pm on RTÉ ONE
Jason McAteer
If you draw up a list of the most memorable moments in Irish soccer history, chances are you would include Ireland qualifying for the 2002 World Cup and the subsequent infamous and controversial row in Saipan.

Jason McAteer was part of both events. He scored the World Cup Qualifier goal against Holland and was on the Irish squad when Roy Keane exited the team in spectacular style.

He told Ryan how he 'liked Mick McCarthy' and recalled his numerous on and off the pitch clashes with Keane. He once told Keane he'd rather buy a Bob The Builder CD than his autobiography.

He also gave his opinion on the Irish squad's new management saying 'I thought they would go for someone more experienced to be honest' and on Bobby Robson he said 'he thinks we play in Lansdowne Park!'

Jason revealed how he got his nickname 'Trigger'... 'because I am not the brightest' he joked. He recalled once being asked if he wanted his pizza to be cut into four or eight slices and saying 'four...I'd never eat eight!.'.