Saturday, 17 December 2005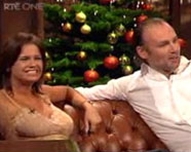 Kerry Katona and Don Wycherley
If her personal life has been, by her own admission, a tough 'rollercoaster ride' in recent times, Kerry Katona's acting debut in RTE's 1960's drama Showbands has certainly attracted positive attention. Her Showbands co-star Don Wycherley told Ryan that despite having no previous acting experience, Kerry immediately impressed everybody on the Showbands' set.
The former Atomic Kitten singer said she learned a lot from her fellow actors saying that "the best thing about acting is that you learn something new every day!".

Don has also been involved in various projects over the last few months. he revealed that a possible 'Bachelor's Walk' reunion may be on the cards.

Catch the two brand new episodes of Showband on RTÉ One on Sunday 1st and Monday 2nd January at 9.35pm.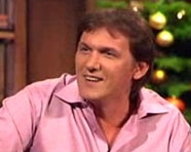 Tony Cascarino
Tony Cascarino started his working life as a hairdresser before opting for professional football, playing for Chelsea, Celtic not to mention being capped 88 times for Ireland.
On the show Tony discussed his football days, his new career as a poker player and his recent 100,000 dollar win at the Caribbean Invitation Poker Tournament. He told Ryan how he was only three or four when his dad taught him how to play the card game and how he learned that the key word in poker is 'discipline'. He learned this after losing 80,000 Euro in his first year playing the game seriously.

Tony also discussed Roy Keane's talent, honesty and sudden move to Celtic.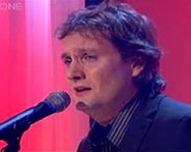 Mario Rosenstock
Mario Rosenstock sang his number one smash comedy hit 'Leave Right Now'. All proceeds of the single go to the Irish Guide Dogs for the Blind charity.
Paul Howard
Creator of what has been described as the 'Frankenstein of Irish fiction', former Sports Journalist of The Year Paul Howard discussed his 'fifth book in a trilogy', 'The Curious Incident of the Dog in the Nightdress'.

Paul discussed the genesis of his main character, a young, rich, dim-witted, former schoolboy rugby player called Ross O'Carroll-Kelly, and speaking of the legend his character has turned into Paul said 'Ross O'Carroll-Kelly has a achieved a fame that I never have'. In a hilarious account he also described his character's super wealthy father and his 'lady who lunches' mother whose latest campaign is to 'move Funderland to the Northside!'.

Paul said his characters are often based on real-life observations. His book is written in the "Dort" accent endemic to certain areas of South Dublin, where 'car' becomes 'cor', 'arts' is pronounced 'orts' and 'right' is 'roysh'.

'The Curious Incident of the Dog in the Nightdress' by Paul Howard is now available.