Saturday, 3 December 2005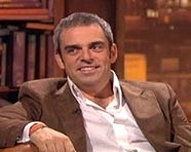 Paul McGinley
Things could have been all very different for the world class Irish golfer Paul McGinley. As sports fanatic, Paul's childhood dream was to wear Dublin colours on a GAA pitch. To this day 'if there is football or golf on TV, I'm definitely watching the football. There is something in me that stirs when I watch GAA' he told Ryan.
However, at 19, a bad knee injury forced him to give up football and turn to golf eventually turning pro at the 'late' age of 25.
Paul also chatted about his school days in Rathfarnam, his friendship with motor racing giant Eddie Jordan and his family.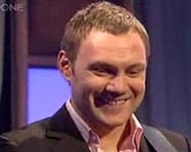 David Gray
In the midst of a massive tour, David Gray took some time out to visit Tubridy Tonight to perform his latest single 'Hospital Food'. David also chatted about his extraordinary success - which started in a small venue in Dublin.

Although he enjoys playing large gigs, he said 'there is something special about the smaller shows'. He told Ryan how unique it feels playing in Ireland and revealed his little fantasy of doing an 'Islands tour' which would take him from the West of Ireland, to Scotland, Iceland and Nantucket.

'Hospital Food' is taken from the album 'Life in Slow Motion' which is out now
Keith Barry
During his school days in Waterford, Keith Barry was fascinated by magic and illusion. As a young boy, he spent a lot of time trying to hypnotise his mates in Irish class and taking other student's lunch money by performing three-card tricks.
After a stint as a cosmetic scientist, Keith turned professional and is now a rising star in LA.

He told Ryan how he divides his time between Ireland and the US, and although it feels a bit 'weird' at times, he said he enjoys the variety.

Keith taught Ryan a couple of his 'beginners' magic tricks before bamboozling him by picking his pocket.

Keith Barry's DVD 'Brainwashed' is out now