Saturday, 26 November 2005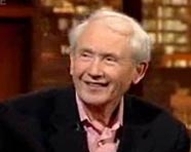 Frank McCourt
Frank McCourt spent 30 odd years teaching in some of the roughest high schools in NYC; after retiring from teaching he wrote his childhood memoir Angela's Ashes, which won him numerous prestigious literary awards and made him a household name.

He recalled the various challenges he encountered during his years teaching and the sheer energy and boldness the pupils brought to the classroom. 'Teenagers don't just walk into a room, they rush in, they wrestle, they jump, they push each other, they abuse each other' he said.

He confessed it took him 15 years to begin to feel comfortable in the classroom, but added he was more interested in the 'crazy' and unruly kids than the polished and well-behaved ones, because 'as a writer, the goodies never give you any material'.
Teacher Man by Frank McCourt is published by Harper Collins and is out now.
Kerry Condon
For Kerry Condon the decision to become an actress was an easy one. 'it was either that or become a paediatrician. and I didn't want to go to college and study'.
She chatted about her burning ambition to make it on the big screen and remembered writing to film and casting directors desperately seeking a break.
When Alan Parker held open auditions for his film version of Frank McCourt's Angela's Ashes, she knew her break had come. 'I just had to get it. I wasn't going to let somebody take it from me' she said.

The 23 year old actress is very determined and knows exactly what she wants. When it comes to men, it is no different. She admitted being very 'fussy' and although she stared alongside some of the most fanciable actors in the world she said Orlando Bloom 'wasn't my thing' and with Colin Farrell she was 'having none of it'.

Kerry is currently starring in the BBC/HBO series "Rome".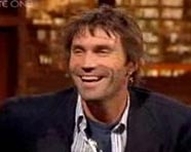 Pat Cash
As UK president of the Irish charity Goal, former tennis champion Pat Cash visited Tubridy Tonight last Saturday.

He discussed his involvement with Goal and his Irish roots. He also recalled the Wimbledon final he won in 1987 and the great era of men's professional tennis he belonged to. He said 'it was an era where all players had such individual style'.

Although Pat disagreed with Ryan's contention that modern tennis champions have taken the fun out of the competition, he admitted that current players' style tends to be 'all the same'.
Besides being a maestro with the racquet, Pat is also a talented guitar player and a music buff. He told Ryan he grew up listening to Irish artists such as Rory Gallagher, Thin Lizzy and Gary Moore and said 'I like to get my mates, turn up the amps and do a concert here and there'. before promptly picking up a guitar and jamming with the Camembert Quartet.
The Bravery
Compared to music legends The Cure and New Order, The Bravery have been hailed as one of the bands of 2005.
Fresh from a sell out gig in The Olympia, the New York five-piece played their brilliant current single, 'An Honest Mistake'.
The Bravery's debut album 'The Bravery' is out now.