Saturday, 29 October 2005
Bob Geldof
Shortly to be honoured with the freedom of Dublin and a tireless 'Make Poverty History' campaigner, Bob Geldof visited the Tubridy Tonight studio last Saturday.

Although no stranger to receiving awards Bob explained how particularly proud and thrilled he is to receive the honour from his home town.

Quizzed on his relationship with Ireland he told Ryan how unmistakably Irish he feels. Bob cites his characteristically Irish traits as his opposition to authority, pursuit of justice and his gift of the gab.

He attributes luck, flattery and hard work to his success in convincing Madonna and other prestigious names in showbiz to perform at last summer's Live 8, in a bid to 'Make Poverty History'.
In the passionate manner that is synonymous with Bob, he finished by saying that music is second nature to him and he is very much looking forward to his Vicar Street gig in December.

Bob Geldof will be playing live at Vicar St. on Dec. 6th
Live 8 DVD is out now.
Dara O'Briain
Back by popular demand, Dublin comedian Dara O'Briain paid a return visit to Tubridy Tonight last Saturday.
With his typical wit and sense of satire, he started by telling the audience how thrilled and honoured he was to place his behind where Bob Geldof had just sat.

He described how after only two months out of Ireland, he returned to Dublin to find that a new national hero called Eddie Hobbs had made a huge name for himself simply by walking through supermarkets saying 'this is too dear!".

He discussed the recent London bombings, how pragmatically the city reacted to the events and how he inadvertently chatted on his phone through the minute's silence.

The comedian is enjoying massive fame on both sides of the Irish Sea, and going by his hilarious performances, his growing success is hardly a surprise.

Dara O'Briain Live @ Vicar St. Nov. 30th, Dec 1st, Dec 2nd and 3rd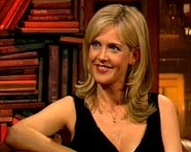 Sinéad Moriarty
A book deal was 'a dream come true' for Sinéad Moriarty, but it was born out of a distressing and frustrating situation.
The young author always wanted to be a mother but after a couple of years trying for a baby, things turned out to be more complicated than anticipated.

After low moments and even despair, Sinéad decided that writing a humorous account of the situation would more than likely be therapeutic. 'I think a good sense of humour always helps through challenging situations' she said and added 'the best humour often stems from the darkest of places'.

Luckily, her situation led to a successful outcome. Sinéad Moriarty is now five months pregnant and is also the proud mother of one year old Hugo.

"The Baby Trail" and "A Perfect Match" are available now