Saturday, 22 October 2005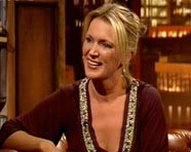 Rachel Allen
As a child Rachel was never quite sure about the career path she wanted to follow, she had the notion she'd end up in fashion and fancied travelling the world.

Rachel's grand plan of travelling the world however, took her from Foxrock in Dublin to Ballymaloe in Cork. There, while attending the world famous cookery school, she met and fell in love with one of the Allen boys. She married him and after co-presenting a cookery programme with Tim, her father in law, the kitchen fairy became a TV goddess and started fronting her own programme.

She told Ryan that after struggling with recent events the whole Allen family wants to put the matter behind them and get on with life.

Rachel's Favourite Food for Friends, presented by Rachel Allen goes out on RTE ONE Wednesdays at 7.30pm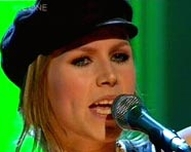 The Cardigans
Whether it is due to the lead singer's stunning Swedish looks or to the band's talent for infectious radio friendly tunes, the Cardigans are certainly no strangers to the top of the charts.

The Cardigans first burst onto the international pop scene a couple of years ago when 'Lovefool' featured in the blockbuster Romeo & Juliet film soundtrack.

After a string of top ten hits, including 'Carnival', 'Erase/Rewind' and 'My Favourite Game', the band is now back with a new album, and performed their current single 'I Need Some Fine Wine And You, You Need To Be Nicer', exclusively for the Tubridy Tonight audience.

The Cardigan's new album 'Super Extra Gravity' is out now!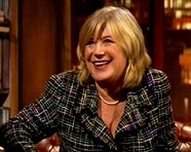 Marianne Faithfull
From the angelic looking pop star to the 'scantily clad woman at a sex party', Marianne Faithfull made the headlines on more than one occasion and for more than one reason.

Her mother was Baroness Erisso, a dancer and actress who descended from a long line of Austro-Hungarian aristocrats and her father was a WW2 spy, Major Glynn Faithfull - Marianne told Ryan how her 'background couldn't have been more weird'.

Her striking baby doll looks got her noticed very early on. She recalled how back in the 60's the Rolling Stones' Manager came up to her at a party and said 'I want to make you a star, baby'.

Looking back at her career Marianne told Ryan that she feels very lucky to have survived severe drug addiction and is happier today than she has ever been.

Although she's lived all over the world, she said that Ireland is the place she calls home.
Ann Widdecombe
A formidable woman with a hard-line reputation, Tory MP Ann Widdecombe paid the Tubridy Tonight studios a visit last Saturday.

Ann told Ryan about taking part in ITV's "Celebrity Fit Club", her much publicised conversion to Catholicism, and how 'plain girls have it easier'.

When Ryan asked why she never married she straightforwardly answered that it was a mixture of choice and chance.

Suggesting that it may not be too late, Ryan was told in no uncertain terms "I get my bus pass in two years, it is VERY much too late! ... I got used to doing things my way; I don't fancy the compromises that go with marriage!"